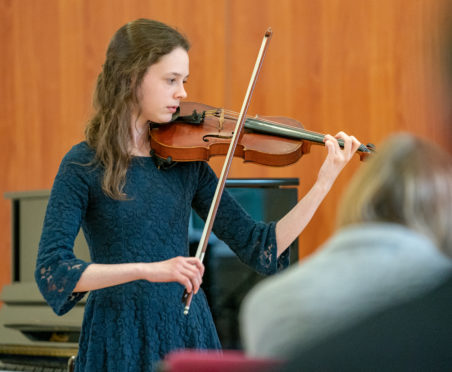 Fiddlers from across the north of Scotland flocked to Elgin at the weekend for an annual music festival.
The 48th annual Festival of Scots Fiddle Music took place at Williamson Hall, with players taking to the stage to impress an audience of traditional music lovers.
Organised by the Elgin and Strathspey Reel Society, there were various competitions throughout the day including for children under nine and the best music ensemble.
Joint festival secretary Jim Hogg said it had been an "excellent" day and that the audience had been impressed by the talent on show.
He said: "There was great entertainment put on throughout the day and the whole thing was a great success.
"It's important to keep traditional music alive in the region and especially at all levels from youngsters to the old, like we had children aged nine taking part up to the oldest competitor at 80.
"We are going to do this all again next year as it is something the audience enjoys."
Elgin and Strathspey Reel Society are always on the look-out for new members, e-mail mail@elginstrathspeyandreelsociety.org to find out more.
48th annual Festival of Scots Fiddle Music 2019 results
Nine and under (Kim Murray Trophy) – Bethan Wood, Buckie
10-12 years  (McKerron Cup); Pat Cameron Chambers Trophy; Captain George Douglas Trophy – Angus Low, Fochabers
Bill Brian Memorial Trophy –  Olivia Starrs, Cullen
13-16 years March, Strathspey & Reel (George Moir Trophy); Slow Air (McDonald Cup) – Charlotte Slater, Ellon
Senior March, Strathspey & Reel ( John Barr Cochrane Trophy); Senior Slow Air (Elgin Town Council Cup) – Rosie Winchester,   Keith
Own Composition (Effie & Harry Glasgow Trophy) – Ena Brian, Forres
Championship Class (William Macpherson Trophy) – Anne Mitchell, Inverurie
Senior Ensemble (Duncan Pirie Cup) – The Andersons, Tarland
Elgin Rotary Club Bow & Shield  –  Neve Paterson, Buckie
Maria Senk Rosebowl  – Karen Lambie, Alves