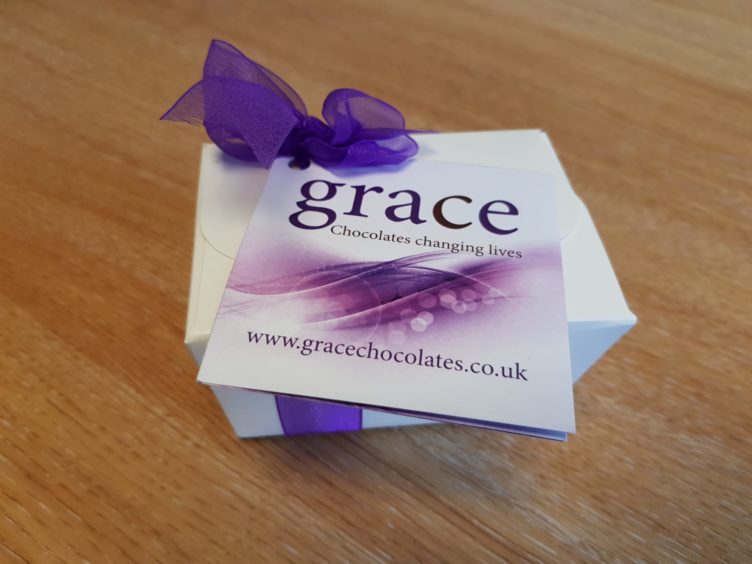 Women who have spent time in prison are being offered the chance to transform their lives  – by making luxury chocolates.
The new initiative, based near Stirling, has boosted their self-esteem, self-confidence, resilience and created a pathway into meaningful employment.
Joyce Murray, the founder of community interest company Positive Changes which makes Grace Chocolates, said the 20 women who have engaged with the seven-week programme to date are making good progress.
She added she had enormous empathy for the victims of crime, but remains convinced it is in the public interest to break the cycle of re-offending.
Evidence has highlighted that having a job, a home and good family relationships can help achieve that, but women with criminal records face significant barriers to employment due to issues such as lack of qualifications and low self-esteem.
Grace Chocolates was established in September 2017 and is based in a Church of Scotland hall near Stirling. During a 12-month period, a team of up to six volunteers working with women just one day a week made around 19,000 white, milk and dark chocolate truffles.
The flavours include banoffee, coffee and cardamom and lemon and ginger.
The women, whose identities have been protected in this feature, are awarded certificates and qualifications through courses and training.
One of them, Mary, said making chocolates had changed her "whole world" for the better.
She added: "I used to be a drug user and I kept getting the jail all the time. I was put on a court order and got involved with Positive Changes.
"It is a lot more than just a chocolate-making company and words cannot easily describe how my life has been turned round 360 degrees.
"When I first started the course I was dead quiet and withdrawn. But my self-esteem and self-confidence is now sky high by comparison.
"It has given me structure in my life, I love every minute of it and cannot wait to get up in the morning and go to work. It is such a brilliant place to be and Joyce is so supportive and encouraging."
Another woman called Angela said volunteering at Grace Chocolates had given her a "new purpose" and taught her how to be "normal again".
She added: "It is such a great programme and the training and experience is helping to get me ready to move into the workplace. It has given me back my self-esteem, self-confidence and has been a great foundation from which to rebuild my life.
"It has given me belief in myself again."
Angela explained she could not recommend the scheme highly enough to women who have been touched by the criminal justice system.
She said: "I am fully determined to ensure that my past will stay in the past. I want to be part of the workforce, a good mother, a good family member and start living again."
Mrs Murray revealed she became interested in helping people turn their lives around after she started volunteering at the family centre at HMP Cornton Vale near Stirling which opened in 2013.
She said: "The aim of Positive Changes is to support any woman who has touched the Scottish criminal justice system towards fulfilling employment.
"We tailor the support to meet their individual needs, offering work experience, qualifications and a range of support from partnership agencies.
"It costs taxpayers £65,000 to put a woman in prison and a further £45,000 each year she remains and that is before taking into account the cost in financial and human terms to the women's family, children, society and those directly affected by crime.
"Breaking the cycle of reoffending is good for the public purse, communities and society."
Mrs Murray, who leads the work to make the chocolates which can be bought online and at outlets including the Scottish Parliament shop, said the change in the women can be profound.
She added: "I am seeing very anxious, nervous people coming in. They have had difficult experiences and have been belittled for mistakes they have made.
"We have given them back a little bit of their self-respect that allows them to move forward with their lives."
Mrs Murray insisted she did not condone crime.
But, as she added: "We have tried hanging and flogging and sending people to the other side of the world and that has not worked.
"This is an option to try something different. The women who come here have served punishments that the courts have issued.
"It is about moving on and breaking the cycle of re-offending."