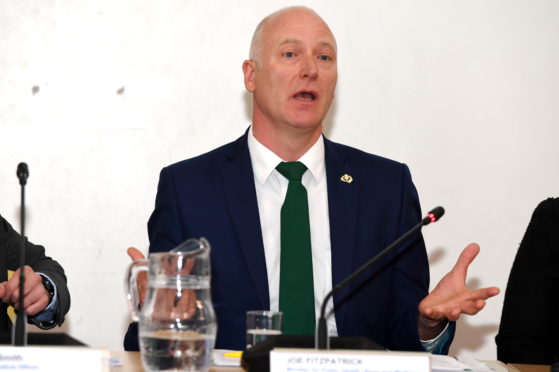 A top doctor has questioned what incentives there are for under-pressure health boards to stick their budgets.
Alistair McKinley claims patients have seen "no good" from NHS Grampian meeting spending commitments.
The Aberdeen Royal Infirmary consultant put the question to Public Health Minister Joe Fitzpatrick, who introduced NHS Grampian's annual review yesterday.
Dr McKinley pointed to NHS Tayside, which had £37 million of emergency loans written off last year.
Crisis-hit NHS Highland also benefitted from the Scottish Government discounting £150 million of loans given to health boards across the country.
Dr McKinley said: "We were one of the very few boards to meet our financial commitments because of our financial management.
"But I have clinical colleagues who say it's done us absolutely no good whatsoever – effectively NHS Tayside has nearly £7 million a year extra which we haven't had.
"So what do you say, because it doesn't seem to be rewarded?"
Mr Fitzpatrick answered: "It is very important all NHS boards keep to their target, so Grampian should be congratulated for that.
"We need to get all boards in that same financial position.
"I think NHS Grampian used to suffer really badly because of the funding formula, but the government is turning it around."
Dr McKinley told those at the meeting he did not think that answered his question, leaving the minister stuck for words.
NHS Grampian's chief executive came to the minister's defence.
Amanda Croft said: "To be fair, it was probably our job to answer that anyway.
"It's very hard to compare decisions of different health boards at different times."
Her finance director, Alan Gray, said he thought the reward for their prudence was the £300 million the health board had to spend on new hospitals, health centres and facilities across the north-east.
At the same meeting, bosses also revealed a preferred option for the future of the maternity ward at Dr Gray's Hospital in Elgin has been submitted to the Scottish Government.
The plan to find a way to have the ward fully up-and-running has been put together by health bosses and campaigners after services were downgraded last summer.
Between last July and February 2019, 344 women from Moray gave birth at Aberdeen Royal Infirmary and 23 women gave birth at Raigmore Hospital in Inverness, compared to 215 at Dr Gray's.