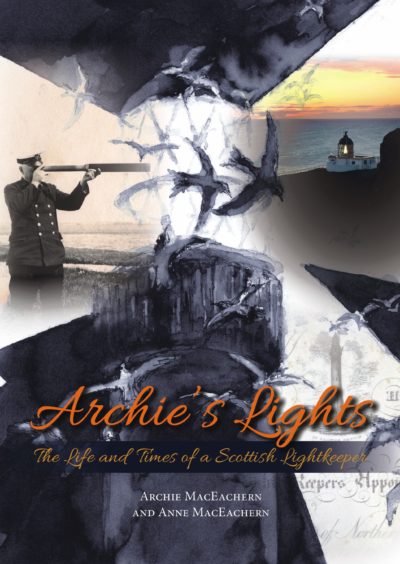 There was never any danger of Archie MacEachern feeling indifferent about lighthouses – he was born in one and spent the rest of his life helping those in peril on the sea.
That journey, which saw him dealing with everything from cataclysmic storms to  shipwrecked sailors, German spies and lurking U-boats has now been poignantly revealed by Mr MacEachern's widow, Anne, who has recounted her husband's remarkable story in a new book, 'Archie's Lights'.
It is a heartfelt description of the particular qualities which were required by those who manned the very remote and windswept locales from Barra Head to Flannan Isle, and from Chanonry Point to Covesea Skerries on the Moray Firth.
And although Mrs MacEachern, 81, has never put pen to paper before, she has captured the solitary and often dangerous existence of those who served with the Northern Lighthouse Board and were devoted to the maxim "For the Safety of All".
She said: "We were married for over 30 years and I collected a lot of stories, because Archie [who died in 2005, aged 95] was much older than me.
"His father and grandfather were both lightkeepers. It was a way of life which has now gone forever.
"The men on the lights needed to have the right temperament and be resourceful, patient and, when it was required, courageous, because it was a dangerous occupation.
"Some of the keepers were annoying and when you were in close proximity to them for weeks on end, it must have been very frustrating. But Archie worked with so many different people throughout his life, all across Scotland and the Isle of Man.
"The Second World War was a very difficult time, because Archie and his colleagues always wanted to rescue people and prevent tragedies. But sadly, there were times during the conflict when they were powerless to stop these things happening."
As Mr MacEachern recalled: "I can never forget the day that seven lifeboats full of people drifted past us. Of these huddled figures, we could not tell how many were alive; none were strong enough to row.
"Some waved feebly in a mute appeal for help. Confined to our tower, we were powerless to assist. Finally, we decided to break radio silence and call for aid, but it was two days before a frigate came.
"By then, the boats were out of sight and probably all the occupants were dead. It was surprising that a ship came at all while the Navy was so hard pressed by the submarine menace. We were reprimanded mildly for calling them."
The book, which is enhanced through evocative illustrations by Duncan Baillie, reveals there were other occasions where the lighthouse keepers forged unusual friendships.
Again in Mr MacEachern own words: "There was one day when the Hesperus crew rescued a tiny monkey, Jacko, from a torpedoed vessel.
"None of the crew could be recovered, but Jacko was found adrift on a plank, crying and alone. He stayed on board with the captain's consent and was very well treated by the men. Spotlessly clean, he was also extremely mischievous.
"Jacko slept in his bunk with his arms around the bo'sun's neck, and whenever he was in trouble, he ran to hide inside the man's jacket, his little face peering out between the lapels. The bo'sun fed him in the mess room – he was especially fond of lettuce.
"He loved to creep under the long mats on the floors, dashing along at great speed and reappearing at the other end. As if he was playing in the treetops, he would dart up and down the rigging and onto a knee or shoulder or on top of the door.
"Jacko became a great pal of mine and he would jump onto my knee in the lightkeepers' room, searching my pocket for the raisins I always brought from home.
"He stuffed them into his mouth and watched us intently, as if he was listening to our conversations."
Mr MacEachern's service as a keeper lasted for more than 50 years.
And, although he died nearly 14 years ago, the book, which was officially launched in Dingwall at the weekend, brings him vividly back to life.
Mrs MacEachern added: "Archie was one of a group of remarkable men who showed dedication to their duty, but whose role has pretty much been forgotten.
"I wanted to  record the wonderful work he and the other keepers did."
Archie's Lights is available from Whittles Publishing in Caithness.
Archie MacEachern had no doubt what happened to ill-fated Flannan Isles trio
Mystery has surrounded the disappearance of three men from the lighthouse on the Flannan Isles since they vanished in 1900.
And over the years some lurid notions have been devised to explain what happened to James Ducat, Thomas Marshall and Donald MacArthur.
But Archie MacEachern had no doubt they were simply trying to save others when tragedy struck.
The book records his thoughts, with the lighthouse keeper recalling: "It was known from reports that hurricane force winds were blowing on December 15.
"My theory is that one keeper, wearing his oilskins, had gone up the tower to fill in the log.
"He went on to the balcony to check the wind and caught sight of the topmast of a sailing ship that was being driven for the cliffs.
"It is likely a second keeper was outside, also dressed for the weather. The third man was in the kitchen.
"The ship was only visible from the balcony with furious spindrift obscuring the view from below. Clearly, she was in imminent danger.
"The keeper on the balcony would have run downstairs shouting: 'Ship in trouble, lads! Come on! Quick!'
"The cook ran out to join the others, not waiting to put on waterproofs. Their immediate reaction was to race to the aid of a ship.
"They knew that if they could get a line to the crew, there might be a chance of saving those on board.
"To reach them, they would need the crane on the upper platform. While they were kneeling to loosen its clips, a wall of water raced up the rock face, snatching them from above.
"As the cascade retreated, their bodies would be tossed into the sea. The ship would have broken up very quickly."
Mr MacEachern added: "On December 15, 2000, an official announcement from the Lighthouse Board commemorated their deaths with dignity.
"It said: 'It was on this day in 1900 that the three lightkeepers at Flannan Isles wrote their last entry in the log. The Northern Lighthouse Board pays tribute to them and their families.'
"Having considered official reports and my own and my father's experience of the Flannan Isles, I have no doubt: the three men were attempting to save other lives when they lost their own."