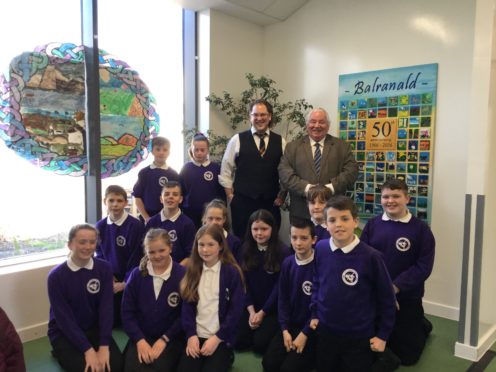 If it's good enough for Barra, it's good enough for Eriskay, Benbecula and North Uist.
Communities in the Western Isles have launched a new competition to find their own flags.
Residents of the three islands have launched an appeal to determine the design of their respective flag.
The competition is being coordinated by a steering group, incorporating representatives from community councils and local organisations.
Philip Tibbetts, Honorary Vexillologist with the Court of the Lord Lyon, has been visiting primary schools to encourage budding artists to get involved.
He said: "I have been greatly impressed by the positive reception to the concept of the flags as well as the ideas the pupils have come up with so far – the distinct history, geography and culture of each island is serving as a very rich palette for some very creative minds.
"I was also very impressed on my visit to see the innovative ways that the neighbouring flags of Barra and South Uist are already being used to promote their communities. I am pleased that Benbecula, Eriskay and North Uist will be able to emulate these same benefits following this competition."
Entries are now open, from local residents and countries across the world, before the closing date on June 7.
All design ideas will be considered by a panel before being narrowed down to a shortlist, which will be put out to a public vote later in the summer.
Each chosen design will then be assessed by the Court of the Lord Lyon before being declared official and added to the heraldic records of Scotland.
Alasdair Allan MSP said: "I am pleased to see that Benbecula, Eriskay and North Uist may all soon be about to get their very own flags.
"As well as being an obvious expression of the identity of a community and providing a collective symbol to rally around, community flags could help to boost the profile of each island and boost marketing efforts.
"I am really interested to see what kind of designs Benbecula, Eriskay and North Uist look at and hope there will be widespread public involvement throughout the summer."
South Uist had its official flag confirmed in 2017, with Barra following soon after. Both islands have utilised their respective nordic crosses as effective icons for their communities, which are now central to efforts to market Barra and South Uist.
Choosing a flag isn't always a simple thing.
In December, the county of Sutherland finally got its own flag after thousands of local residents voted to choose the design.
The original design of a swooping eagle on a yellow background with three stars faced a backlash, with some comparing it to a budgie.
So the Sutherland flag committee launched a public vote in October to let residents to choose a design.
More than 3,000 people turned out to vote, with 921 people voting for the winning design – a black Viking nordic cross over a black saltire to form a yellow sun.