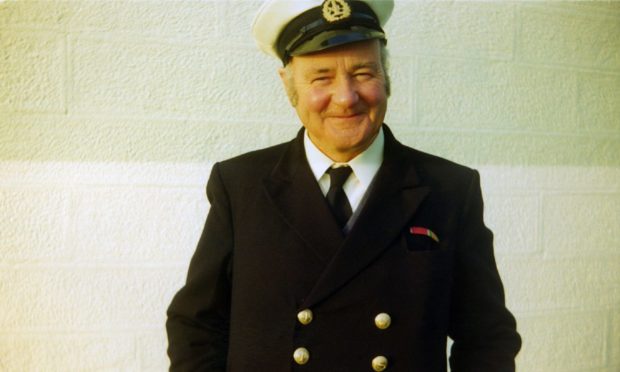 The north of Scotland is renowned for breeding tough characters.
And Archie MacEachern, whose life around the country's remotest lighthouses saw him faced with frequent tragedies, was one of the toughest.
Yet, as "Archie's Lights", a new book about the man, who devoted more than 50 years of service to the Northern Lighthouse Board, makes clear, there were plenty of other times where Mr MacEachern, who lived from 1910 to 2005, found himself in situations which veered towards the ridiculous, comical or absurd.
During the Second World War, he was based at Buchan Ness, a lighthouse which stood on a tiny island that was linked to the busy fishing village of Boddam.
With many of the males in the community away on active service and food and other commodities in short supply, Mr MacEachern found himself involved in many more duties than he had envisaged.
As he recalled: "Money was often scarce in these households. One day, I was asked to change a light bulb for two elderly sisters. I laid my uniform cap down on a table while I was busy and their little cat jumped up to investigate.
"I thought it was rather odd when he sat in it – but then I found a little pool when I went to put it on again.
"Eh me, he's piddled in your bunnet,' said one of the ladies calmly. And it quite was a new cap too.
"Another old lady came for help to fix her leaking roof. This was a bigger undertaking and I arranged for a builder in Peterhead to carry out the necessary repairs.
"When he gave her the bill, she just stared at it. 'Ah well, I canna pay ye, but the Lord will," was all she could say. He knew he would not be paid: she just did not have the money, so he let it go."
Mr MacEachern occasionally played in the village football team whenever there were gaps to be filled. But, as he added: "When the local lads returned from the war, we became referees  and often enough, after an unpopular decision, we had to run for our lives.
"Feelings ran particularly high after one disputed penalty and I was chased to the bus by the women of New Pitsligo. Divots were hurled at me as cries of 'wash yer bloody e'en out, ref' rang in my ears."
Back in Boddam, he did his best to look after a widowed fisherman, Davey, who had two daughters, one of whom was blind. He worked the creels and helped the family increase their precious sale of lobsters and crabs.
But these old fisher folk sometimes liked a laugh. As Mr MacEachern recalled: "Davey was a joker. I remember one summer's night after the war, when there was a bonfire party by the harbour.
"A good crowd gathered and Davey sat yarning with an old friend, who had a wooden leg. While they chatted, the man took off his leg and laid it on the ground.
"But, when the fire began to die, Davey picked up the leg and threw it on the embers – and instantly, it went up in flames.
"In the rumpus that followed, some people were not convinced that he had mistaken it for a stick. But the boat builder soon made a new leg for the friend!"
The book, which has been lovingly written by Mr MacEachern's wife, Anne, is available at Whittles Publishing.