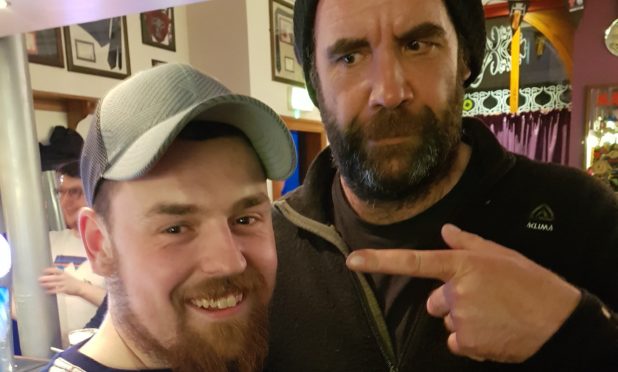 Fans of smash hit TV show Game of Thrones in Shetland got a surprise on Friday night when actor Rory McCann visited the capital Lerwick to take in the town's nightlife.
McCann, who plays Sandor 'The Hound' Clegane in the popular fantasy drama series, is thought to have arrived in the islands on a yacht after previously visiting Orkney.
Five times Game of Thrones stars visited the north and north-east
The Scottish actor headed to harbour-side pub Captain Flints where a heavy metal gig was taking place, while he was later spotted in the Marlex bar about a half a mile away.
His visit came just a couple of days before the final episode of Game of Thrones is aired, with social media across the world seemingly flooded with anticipation.
Game of Thrones fan James Anderson met McCann in the Marlex pub and got a photo taken with the actor.
So it appears that "the hound" Rory McCann is in Shetland and was out out in Lerwick!! So jealous!!!! Natasha Maltby cracking photo!!!

Posted by Kirksty Bradley on Saturday, 18 May 2019
He said afterwards: "I'm still buzzing, it was unreal.
"Walk into the Marlex for quiet Friday night pint and meet the Hound from Game of Thrones. Superb."
The eighth and final season of the award-winning Game of Thrones premiered in April, with the show again becoming one of the most talked-about programmes around.
The last episode was is due to air over the weekend and in the early hours of this morning. McCann has also appeared in films like Hot Fuzz and Clash of the Titans, while he also donned a kilt and vest for the memorable Scott's Porage Oats advertising campaign of the 1990s.
He is known to enjoy sailing and spending time away from the limelight in his yacht.
The American fantasy drama Game of Thrones television series was created by David Benioff and D. B. Weiss for HBO.
The show is filmed in various locations around the world, including Scotland and Northern Ireland.
The series premiered on HBO in the United States in 2011, and will conclude with its eighth season.