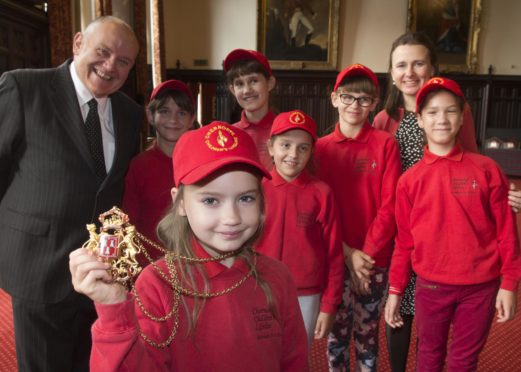 If you explore the maze of corridors in Aberdeen's Town House, you might wander into the grand Town and County Hall.
With imposing portraits and stunning vaulted ceiling, you'd be forgiven for drinking in the splendour.
The Neo-Gothic building is a reminder of the north-east's fascinating past.
It also stands as a sign of progress and the throb of the city centre rings out on the cobblestones below.
Adorning the walls of the historic hall are five colourful flags from countries around the world.
They overhang the balcony in a stately manner, rich fabric unfurled to proudly display each country's symbol.
The flags serve a rather special purpose, a reminder of Aberdeen's diverse links.
The city is twinned with Regensburg in Germany, Stavanger in Norway, Gomel in Belarus, Clermont-Ferrand in France and Bulawayo in Zimbabwe.
Aberdeen could also become the first Scottish city to twin with a Native American community.
Talks are ongoing in a bid to twin with the Potawatomi, who are mostly based in Oklahoma.
Towns across Aberdeenshire are twinned with places in France and Belgium. Representatives from Stonehaven are currently in the city of Athens in Alabama, with a view to cementing a further twinning agreement.
But what does twinning actually mean for people who are going about their lives, albeit thousands of miles apart?
Is it more than two names on a signpost and a formal civic ceremony?
Phil Mills-Bishop certainly thinks so, having overseen Stonehaven's first twinning, with Acheres.
A year has passed since the agreement and Phil believes it has brought French tourists to the seaside town.
"I think in this unstable, hostile world, we need twinning more than ever," said Phil. "There is Brexit, acts of terrorism.
"Twinning is about ordinary people making connections and forging friendships.
"We chose Acheres because it could not be more different from Stonehaven.
"We didn't want to twin with somewhere that was similar to us.
"Acheres provided us with a chance to learn about a place completely different to home.
"This past year has been fantastic and there have been plenty of visits.
"In April, Stonehaven Golf Club hosted a competition where a group from the Acheres Golf Club came over.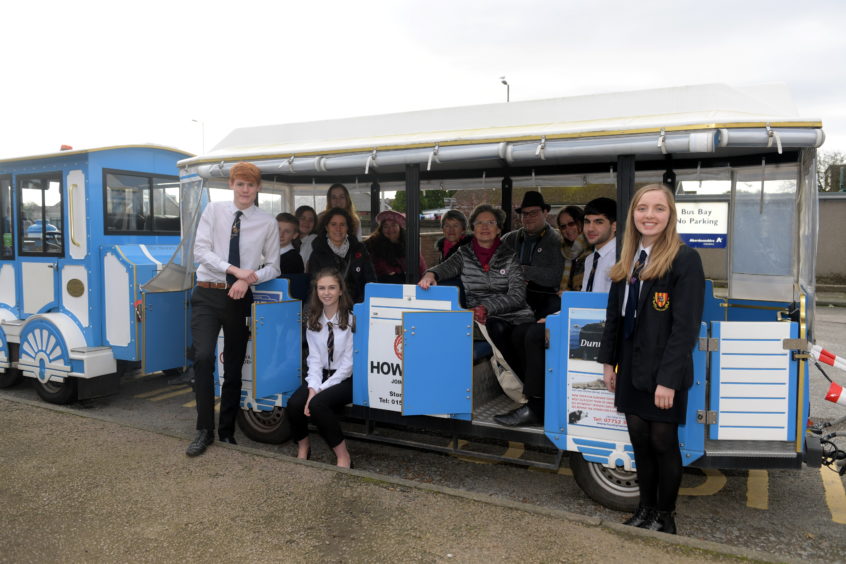 "And at the start of last month, a group of 20 Mackie rugby players travelled to Acheres to play in the 50th anniversary of the Acheres Rugby Club.
"An Acheres tennis team of 12 players will travel to Stonehaven at the end of August to play a competition organised by Stonehaven Tennis Club.
"I think it can be very easy for twinning to become little more than a rusty sign in each town.
"We were determined that wouldn't happen.
"We've worked very hard to cement our friendship.
"As a result, we have welcomed far more French tourists to Stonehaven than ever before."
Phil is currently in Athens in Alabama to confirm a second twinning agreement.
His visit could not have come at a more politically charged time, following the recent ban on abortion in the state.
But Phil believes that twinning will enable both sides to rise above politics.
"It was the initial success of the Acheres twinning and media coverage that came to the notice of university professor Debra Baird, who is from Athens," he said.
"She travelled to Scotland on genealogical research last summer.
"Debra immediately saw the benefits of twinning, or sister township as it is known in the United States.
"We hope not just for civic exchanges but educational placements, sporting links, arts/cultural events, ancestral genealogical research and tourism opportunities.
"Twinning focuses on the fact that no matter what is going on in the world, we are all just ordinary people who want to get to know one another."
If the twinning goes ahead, schools in Stonehaven could soon be seeing their counterparts in Alabama via video link.
University exchanges could also be initiated, partly based on the success of sporting teams visiting Acheres. Neil Foster is president of Mackie Academy Former Pupils Rugby Football Club.
The group visited the French town to play an anniversary match with 17 players last month.
"Our experience was brilliant," he said. "I know the saying of what goes on tour stays on tour. My team upheld the twinning values of friendship and did Stonehaven proud.
"It was a superb visit and we stayed with families in Acheres.
"We sang Flower of Scotland and their rugby team sang La Marseillaise.
"It was a real education and we even dined on snails and frogs' legs.
"As a result of the visit, 20 women from Acheres are now wanting to visit Stonehaven.
"Twinning has given us a real human connection.
"We gave the French team the friendship quaich and drank whisky out of it.
"They will be bringing it to Stonehaven when they visit.
"We brushed up on our French but I have to admit that we used apps on our phone to converse with our host families.
"Their English was much better than our French, that's for sure."
Alongside more recent twinning, Aberdeen has much older agreements formed from tragic events.
The city twinned with Gomel in Belarus in 1990, four years after the Chernobyl disaster.
Belarus neighbours Ukraine and its residents are still affected by radiation.
The Chernobyl Children's Life Line is a nationwide charity which enables youngsters to visit the UK.
Aberdeen has been hosting children for the past eight years, with visitors hailing from Gomel due to the twinning connection.
The trips have taken place under the radar and organisers in Aberdeen are keen for more awareness to be raised.
Sandra Wisely is chairwoman for the Aberdeen group and oversees visits to the city and shire. Together with her husband, Andy, she is preparing to welcome two children into her home in July.
"We welcome children from Gomel because we are twinned with Gomel," she said.
"It can be a very emotional experience for numerous reasons. The children are eight or nine years of age and often come from very deprived backgrounds.
"I remember showing two children my small bathroom.
"They were so impressed.
"They come with very little and stay with us for three weeks."
The visit allows for radiation to leave the children's bodies.
It will take two years to build up again and the trip can help lower their risk of developing teenage cancer.
"When the children arrive, at least half of the room in their bag will be taken up with gifts from their families," said Sandra.
"They are just so grateful that their children have this opportunity.
"One year, a child came with a bottle of vodka in her hand luggage as a thank-you."
The children receive dental treatment if needed, alongside an eye test during their visit.
They are also treated to days out, with support from companies such as Codonas.
"The children don't speak English so we use Google Translate and we know a little bit of Russian," said Sandra.
"Me and Andy don't have any children of our own, so we love hosting our visitors.
"It costs £800 to bring each child to Aberdeen and this is money we have to raise through the charity.
"We will be welcoming two boys and four girls in July.
"We struggle to find host families; it is a big commitment to have children in your home for three weeks. It makes such a massive difference, though."
Councillor Barney Crockett, who is Lord Provost of Aberdeen, will welcome the children to the Town House.
He believes twinning also enables Aberdeen to play its part on the world stage.
"Our first twinning agreement was with Regensburg in Germany in 1955," said Barney.
"These days, twinning is not so formal and we tend to do memorandums of understanding.
"Twinning encourages business links and Houston is twinned with Grampian.
"These business links play an important part in Aberdeen's prosperity.
"There is also a very human element which goes on, such as a nurses exchange with Houston.
"It's about having a network of relationships and there is no limit to how many places we can twin with. 
Aberdeen can be a friend to many."