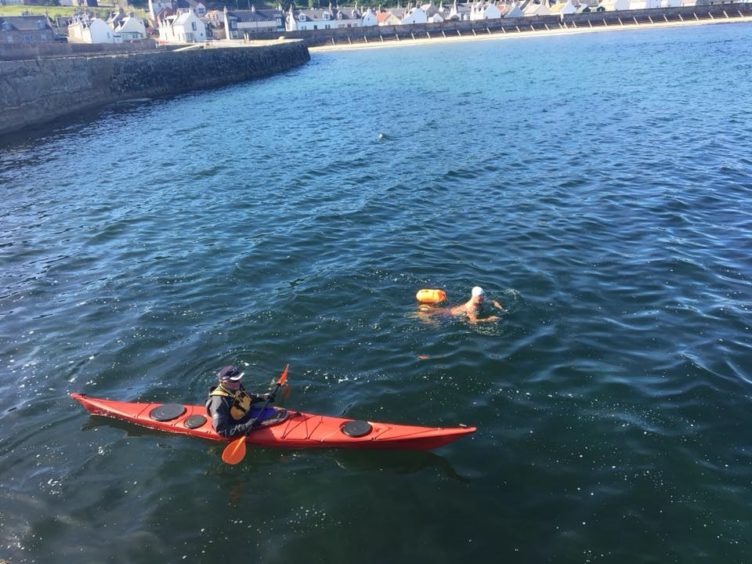 A group of international endurance swimmers are heading to Moray later this month to train in the open water.
The King's Swimmers will use the facilities at Cullen Sea School as a base between June 15 and June 27.
It will be the second time the group of athletes have attended the Sea School for training in what the charity behind the school, The Three Harbours Association, hope becomes a regular annual event.
The King's Swimmers consists of six international endurance swimmers who want to inspire, coach and lead a new generation of competitors who wish to follow in their breast strokes.
They are led by Kevin Murphy, who has swum the English Channel 34 times.
Ashley Mowatt, chairman of the Three Harbours Association, is looking forward to inviting the group back after the success of last year.
He said: "It is the intention that this will become an annual event raising the profile of Cullen Sea School and Cullen itself as a destination for outdoor activities and water sports.
"They swim without wet suits and no goose fat for warmth, and use Cullen Sea School as a base for training and support including the provision of kayak and rib safety cover for the swimmers."
The arrival of the swimmers also coincides with the Sea School naming ceremony and launch of their new skiff, built in partnership with Buckie High School and Moray College UHI.
It is part of the school's SQA accredited wood working course which is designed to help get young people interested in disappearing traditional boat building skills.
The skiff will be piped into the slip way at Cullen Harbour on her maiden voyage.
Mr Mowatt hailed the hard work of the Buckie pupils in building the boat.
He said: "The boatbuilding project has been led by retired ship wrights Bert Reid, from Portknockie; Willie Henderson from Cullen; and Bill Dunbar formerly of Cullen, now Garmouth who started his apprenticeship at the Cullen Boat Yard destroyed in the 1953 hurricane.
"We are fortunate to have this cross-community support. It is heartening that we already have several young Buckie High School volunteers, who never miss a boat building session."
The new skiff will be named and launched on Wednesday June 19 at 2pm.