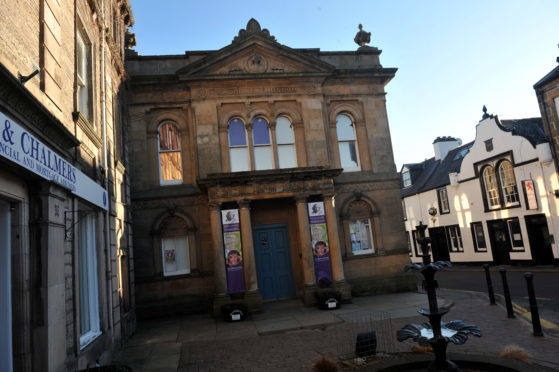 Visitors to a Moray museum are being given the chance to create their own exhibition to showcase their personal history.
The Falconer Museum opened its new one-of-a-kind attraction last night to huge fanfare amidst concern it may be the attraction's final opening night.
The future of the site is in question due to Moray Council's decision to withdraw funding from its publicly-owned galleries.
Optimism nonetheless remains in the air at the museum, with development project officer Anne Owen declaring this new exhibition "a culmination" of her 18 years working at the Falconer.
She said: "The whole idea behind this is creating a reflection of society and to create a visual metaphor of what museums do.
"What we choose, care for, conserve and exhibit changes from one generation to the next.
"It is interesting to look into the future of exhibitions because obviously the future of the Falconer is in jeopardy."
Entitled a Snapshot of History, it allows visitors to choose what objects to put on display in a mirrored cabinet and then take a photograph using a Polaroid camera.
They can then take that home with them as a souvenir of what a museum of their life would look like.
Mrs Owen said she remains optimistic about the future of the Falconer Museum, which resides in a category B-listed building in the centre of Forres.
The local authority is currently looking to the public to establish a trust to take on the tourist attraction through a community asset transfer.
There are hopes that the museum can be kept open and continue to bring in visitors, as it has done since opening in 1871.
The clock is ticking, however, with all parties requiring to have a solution in place by March next year.
Mrs Owens wants to see the museum continue to thrive under new ownership and hopes that this exhibition is not the last ever hosted there.
She said: "This is a thought-provoking piece and one of the most contemporary exhibits we have ever put on.
"Next year is still uncertain so it is good to engage with the public now to see what they would like to see in the future.
"I'm optimistic as this is a great site, it's fully accredited by the Museums Accreditation Scheme, it has about 50,000 objects and is a Victorian building."
The Snapshot of History exhibit runs until October and was funded by The Friends of The Falconer Museum.