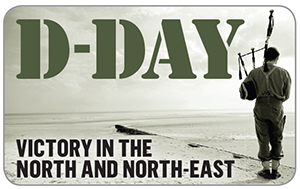 Geordie Mainland was just 19 years old when he led allied troops through the German minefields on the approach to Normandy's beaches.
The Shetland teenager was part of the Marine Commando Unit entrusted with guiding landing crafts through a sea of explosive devices, clearing the way for the Allied invasion to take place.
The Dunrossness man, who now resides in Lerwick, was sent on the operation across the English Channel to German-occupied France in complete darkness and on one of six 30 foot wooden boats.
Those taking part in the operation were told they had a less than 50 per cent chance at surviving.
The petty officer said: "We were picked up by the gunboats and they towed us through the British minefields and across the channel before they left us in the midst of the German minefields.
"We had already been on six mock runs, surveying the beaches and taking back sand samples."
So secret was the operation that twice on his way to join the operation for briefing and special training prior to the D Day landings, Mr Mainland was diverted by military police and officials who claimed they'd no idea what he was talking about.
He and his comrades were also nearly thwarted on their rehearsal voyages after twice coming close to being discovered by German forces.
The 95-year-old added: "One time we went across and the Germans heard us and fired three flares, but it was foggy and they didn't see us so we got away with it.
"Another time we ran into a German convoy. They were so close that we could see their silhouettes in the light.
"Because our boats were so low in the water we were able to stop and waited for them to pass. They didn't see us at all."
Each of the six covert operations they undertook was in preparation for the bigger mission, which finally came on Tuesday June 6, 1944.
"When D-Day arrived I was actually in the sick bay and due to get my tonsils taken out," Mr Mainland said.
"We had been briefed a few days prior and told what we were to do but I was really unwell.
"The day before D-Day they said they were going to leave me behind and take in a guy I had trained with to take my place, but he never showed up.
"So they came to sickbay and said they were discharging me. I was taken out and that was that."
Mr Mainland and his unit were at the forefront of the landings on Sword Beach, clearing a path and guiding in artillery and infantry.
They landed amidst chaos, with shells falling all around them and vehicles blowing up on approach to the beach defences.
Despite the chaotic scenes and sheer destruction taking place around him, Mr Mainland was not fazed by his surroundings.
"You didn't think about it at all," he said. "You were too busy to be frightened. You had your job to do and you just got on with it."
Yesterday he attended a special ceremony in Edinburgh at the French Consulate, where he and other veterans paid their respects to their fallen comrades.
The D Day veteran was awarded the Legion d'honneur cross in January, France's highest military and civilian award, in recognition of his wartime exploits, after the French Consul of Scotland visited him in Shetland.