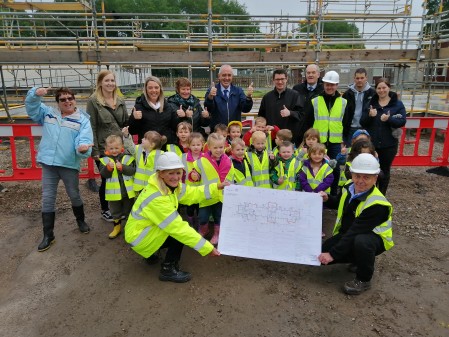 Moray nursery pupils were given a sneak peak at their new building as work on the £2 million project continued yesterday.
Children from Pilmuir Nursery in Forres finally got an in-depth look at what is taking shape after months of staring at a building site through their classroom windows.
Their new classrooms are due to open in early 2020 and are part of the Scottish Government's investment into early learning and childcare in Moray.
After enjoying watching the progress of the construction since it began in April, the kids who have been taught temporarily in classrooms in the primary school were keen to get up close to the building site, especially the diggers.
They were also given the chance to meet the architect and site manager behind the project, who showed them plans for the new nursery and gave an insight into what it will look like.
Pilmuir headteacher Leslie Tulloch said: "It's been such a positive experience for the children in the nursery to get up close with the building site.
"I hope it gives them a real sense of ownership, a feeling that this nursery is theirs, when they move into the new building.
"The children moving on to primary one after the holidays will continue to see the progress from the playground and, you never know, we might have some budding architects, engineers and builders in our midst as a result."
Morrison Construction are the contractors involved in the new build and site manager Paul Skilling chatted to the children and answered any important questions they had.
He said: "It's been a pleasure to host the children. The joy and excitement they brought on their visit has been the highlight of our week.
"Our site visits are always popular with the schools that take part and allow us, particularly with the younger children, to reinforce a health and safety message in a lively and creative way.
"The children enjoyed looking at the site and it was great to be able to show them some of the different roles on a construction site.
"Perhaps it will even act as an incentive for some of the group to consider construction as a career when they're older."