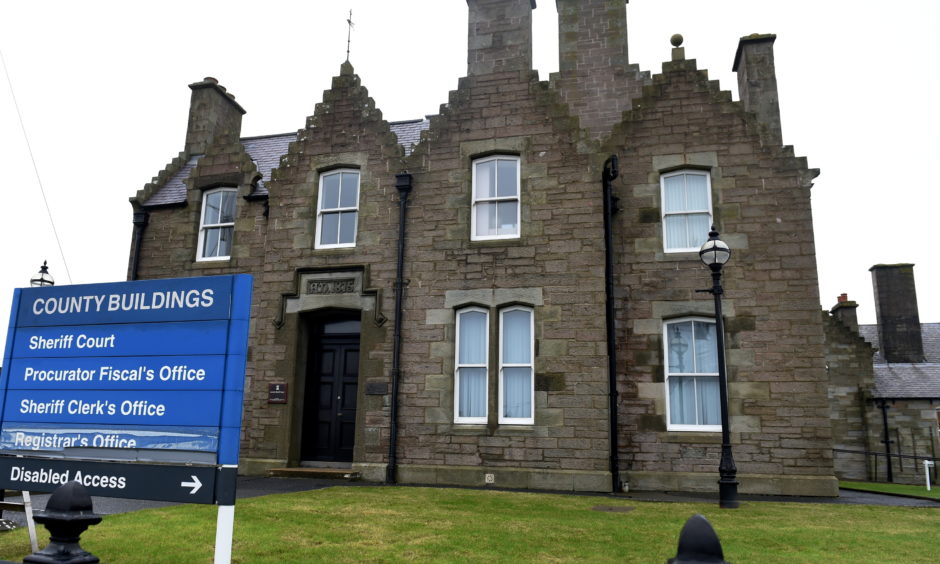 A man who attempted to strike another man with a kitchen knife in a "vicious and frenzied" attack – cutting holes in his jacket in the process – has been sent to prison for nearly two years.
Adam Nelson, whose address was given as Grampian Prison, carried out the assault in a housing scheme in the middle of the day, with a 13-year-old among the witnesses.
Sheriff Ian Cruickshank said it was "by extreme good fortune" no significant injury was caused.
The 30-year-old appeared from custody at Lerwick Sheriff Court on Monday to admit the offence, which took place at an address in the town's Hill Grind on February 2.
He admitted assaulting a man and presenting a knife at him, and repeatedly attempting to strike him on the body with a knife.
Procurator fiscal Duncan Mackenzie said Nelson was at an address "clearly significantly intoxicated by some substance" when the complainer attended with his brother.
Nelson then retrieved a "large kitchen knife" from a drawer and "effectively pursued the complainer to the garden", the court heard.
"The accused made repeated thrusts with the knife at the complainer," Mackenzie continued.
The knife had broken off from the handle during the assault and a witness threw the blade down a nearby drain, from where it was later recovered.
Mackenzie said Nelson was arrested and taken to the police station, but he was in "no fit state to be interviewed".
Defence agent Tommy Allan said his client's recollection of the incident was a little different.
The solicitor added that Nelson said there were a number of people intoxicated in the house and that the complainer and his brother arrived before challenging them.
Nelson accepted that he "became enraged" and confronted them outside of the house, Allan said.
Allan said Nelson had contacted the substance misuse team and that efforts had been ongoing to get him a place in rehab.
Sheriff Ian Cruickshank ruled that there was no alternative to custody.
"This was a vicious and frenzied attack and it's only by extreme good fortune there was no significant injury inflicted on the complainer," he said.
Sheriff Cruickshank gave Nelson a total of 21 months and two weeks in prison, with the sentence backdated to February 4.