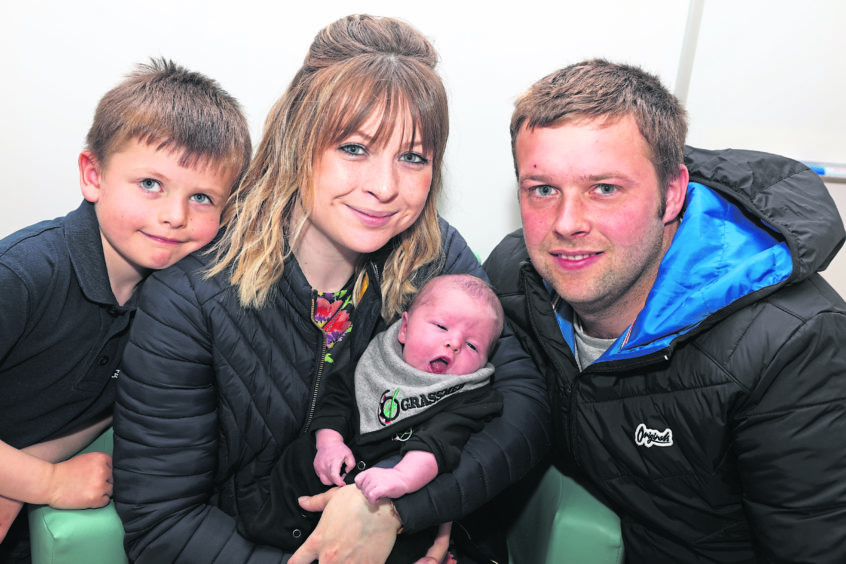 The first peedie bairn to be born in Orkney's new hospital is to be named after the facility – Balfour.
Balfour Harrold Neil Savage was born was the first baby to be born in the new hospital on Saturday June 15, weighing in at just over eight pounds.
A second son for Kerry Stanger and Luke Savage, he was given the name Balfour, a popular family name in Orkney, but also the name of the newly opened hospital in Kirkwall.
Ms Stanger, who lives in Orphir, with Mr Savage and Balfour's older brother Luke, had originally though that she would be giving birth to baby Balfour in the old hospital.
Ms Stranger said she was "delighted" with her new arrival.
Congratulating the couple on social media, many friends and family were asking if peedie Balfour would be an uppie or a doonie in the Mainland's annual ba competition.
Clinical services moved to the hospital on June 14 with Ms Stanger being moved as a maternity patient from the old Balfour Hospital to the new multi-million pound building.
The switch over from the old facility to the new Balfour Hospital took place over the course of the weekend, with those attending the emergency department – the maternity unit switching over on Friday.
NHS Orkney's chief executive, Gerry O'Brien, said: "I want to say a huge thank you to every member of staff because everyone has played a part in getting us ready to move.
"Any relocation of clinical services is significant; moving an entire hospital is a major undertaking. We're all really excited to get the new facility up and running."
The new Balfour Hospital in Kirkwall replaces the 48-bed hospital of the same name and is to deliver high-class facilities for clinicians and medical professionals to provide adequate services to patients and visitors on the island.
The hospital, situated on the mainland of the Orkney Isles, has been constructed by building firm Robertson and costing  around £64million.
Members of the public  are also asked to note that the new reception desk at the Balfour has a new telephone number 888100: alternatively call the normal 888000 out of hours or in an emergency.​