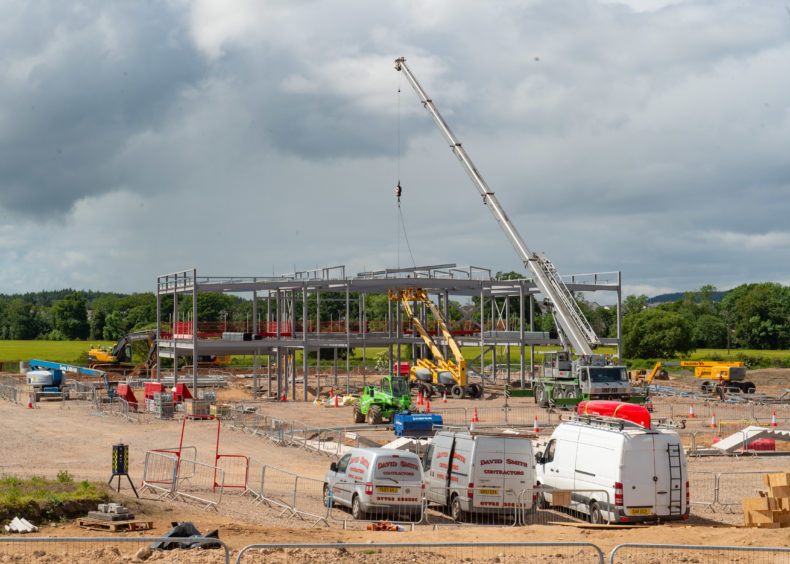 The steel frame for a long-delayed Elgin primary school has been put in place, as construction continues on the new build.
Linkwood Primary School is currently being created by contractors Balfour Beatty and is expected to house up to 500 pupils when it opens, which is scheduled to be in time for the 2020 intake.
Workers have been on site since March clearing the location, carrying out groundworks and piling and they have now installed the giant steel frame which emphasises the scale of the development.
A Moray Council spokeswoman gave a detailed update on how construction was going.
She said: "The latest report from the contractors states that the work at Linkwood Primary is on programme and they supplied us with some key points.
"Site clearance and topsoil strip have been completed, along with the access road and piling. External foul water drainage works and the structural steel works have commenced.
"Over the next few weeks, the contractors are scheduled to work on foundations, structural steel works and drainage."
It has been a much-delayed project, with initial expectation that it would be opened last summer as part of a massive Springfield Properties housing development.
However, issues surrounding the ownership of the site earmarked for the school resulted in construction being pushed back until contracts were signed and settled.
The £12.8million project is on schedule to be completed in June next year.
Pupils registered to attend Linkwood are currently being taught in temporary accommodation at East End Primary School.
Once complete, the new complex will provide space for 462 students including specialist ASN (additional support needs) provision for 12 pupils and 40 nursery places.
An external roof terrace, outdoor classroom, allotment and wetland habitat are also included in the proposals.
The school forms part of the expansion of Elgin South, with about 2,500 homes to be built near the site over the next 20 years.
Sonya Warren, chairwoman of the council's children's and young people committee, highlighted the significance of the project coming to fruition.
She said: "It really is important to Moray and especially Elgin, as it will boost capacity and provide a great learning environment for pupils and a fantastic facility for staff.
"It will provide education fit for the 21st century and, after all the delays, it is great to see it back on target for its revised completion date."