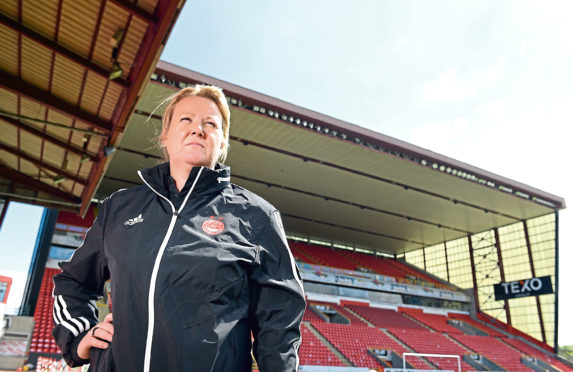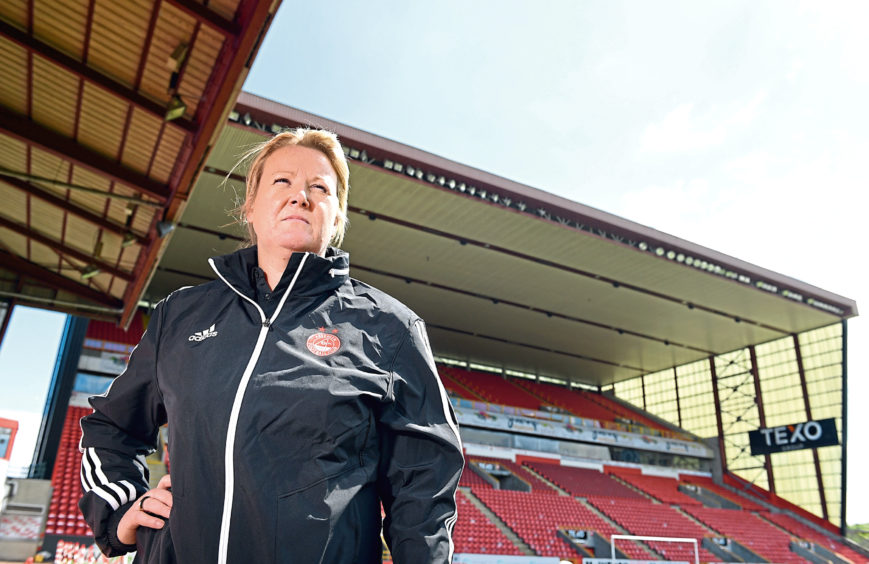 There is one solitary figure on the pitch at Pittodrie, carefully manoeuvring a lawn mower in neat lines across the turf.
The historic home of Aberdeen FC will fall silent forever when the team finally relocates to Kingsford, but for now it's business as usual.
Warning signs instruct people to stay off the grass and the stadium manager carefully monitors his domain with the use of CCTV.
Emma Hunter looks out across the pitch from her vantage point in an executive box, normally reserved for corporate guests.
Her uniform is an Aberdeen FC tracksuit and by day she works for the club's Community Trust.
But Emma's true calling lies with the 16 young women who are determined to make their mark in the rising world of women's football.
As co-manager for Aberdeen FC Women, Emma spends the majority of her free time coaching players and attending matches across Scotland.
She is also assistant manager for the Scotland under-16 girls team and has just gained her UEFA A licence in coaching.
She was one of only two women on the course, which was attended by roughly 100 people, with her female counterpart hailing from the US.
Lack of female representation in the sport is nothing new, but Emma believes change is coming.
Her squad has never set foot on the Pittodrie pitch and their home ground is Aberdeen Sport's Village.
But far from feeling bitter about the set-up, Emma believes her players must earn the right to step forward on the sacred turf.
And step forward they will.
Scotland's World Cup dreams may have ended in heartbreak following their gut-wrenching game against Argentina, but Emma believes that grass-roots football must build on the momentum.
The match in Paris attracted a crowd of 28,000, with 18,500 fans watching the squad's final home game at Hampden before they departed for France.
It is not so long ago that women were banned from playing football, and Emma was even prevented from joining the boys team at school.
"I must have been five or six when I started kicking a football around," said Emma.
"I was the only girl playing football at school and I even got selected for the team.
"But the rules at that time dictated that girls couldn't play in football games.
"I was banned.
"I was allowed to join in with training, but for the actual games I could only sit and watch.
"Looking back it didn't seem so unacceptable, because that's just how it was.
"It didn't stop me playing football of course, and when I was 11 I signed for the women's team.
"I was playing with people much older than me but I was so passionate – and I practised hard.
Aberdeen FC Women are playing in their first season and have been going since March, in partnership with Aberdeen FC.
It was previously known as Aberdeen Ladies, who still exist for players under the age of 19.
Youngsters who have what it takes can join the women's squad, though.
"Thanks to Aberdeen FC we have kit, match analysis, physio and a sports scientist," said Emma.
"We train three times a week and do strength and conditioning in the gym at Pittodrie.
"We vary in age from 15 to 30, we will take on younger girls if they are good enough.
"The dedication and passion from the players is unbelievable.
"We may not have got the result we wanted from the World Cup, but we were there and that in itself is amazing.
"We need to build on the momentum and we can't let all the talk die down after the World Cup exit.
"So many people have a responsibility to make sure we are still talking about people like Scotland's Kim Little in three months' time.
"The media needs to put women's football in the spotlight as a matter of course, so the next generation are growing up seeing their idols on TV.
"I hear boys saying they want to be the next Lionel Messi.
"But what about girls?"
Emma believes that there is a high drop-out rate in women's football between the ages of 14 to 17.
This has a huge impact on the future of the game, partly because there are fewer players available.
"Boys also drop out at that age but while their numbers might halve at worst, it leaves us with the bare minimum," said Emma.
"I am constantly trying to get the balance right as a coach.
"I am torn between pushing my players hard so they can be the best they can be, and making sure they are still focusing at school.
"This is because the career pathway is very limited for women in football and that needs to change.
"Women are getting to a certain level in the game and discovering that their options are limited.
"It's a quandary for women.
"To be a really good football player, you have to train long and hard, which can mean sacrificing school.
"It's difficult for men to make it in football, so imagine how hard it is for women.
"All this money generated by the World Cup needs to be ploughed back into football at a grass-roots level.
"I also think the gap between men and women's football needs to close.
"We aren't asking for salaries to be matched, but at the moment the gulf is massive.
"And not just in pay, it's with media coverage and the services we receive.
"We aren't demanding this simply because we're women, that's not it.
"We aren't asking for much, we just want more balance.
"I see so many women sacrifice so much in their life because of their passion for football.
"I want to see them get what they deserve.
"I think my ultimate dream is that football isn't segregated, at least not at school age.
"People love football because it's football, it's not because of who is playing.
"That is what the World Cup has shown and we can't lose that.
"We need the infrastructure, so in 20 years time we aren't having this conversation."
Meet the players
Bayley Hutchison is tipped to be one to watch. She also plays for the Scotland under-17 national squad.
The 15-year-old balances training with school and hopes to be a professional player.
"I have been playing football since I was little and I was probably the only girl playing at school," she said.
"Everyone gets on well in the team, we're really close.
"I think girls need to be encouraged to play from a young age and there needs to be more media coverage.
"The men seem to get all the coverage, we don't get enough."
Eilidh Shore is 17 and has been playing football since she was nine.
She was encouraged into the sport by her dad and brother.
"My family are proud and they know how hard I've worked," she said.
"I love achieving new things and expressing myself on the pitch.
"We need to make sure there is a way girls can get into football. It can be annoying when you see all boys on the pitch.
"My female friends who don't play have never seen my passion for it as unusual."
Francesa Ogilvie is 17 and has been playing football since she was 12.
She believes women can be just as aggressive as men on the pitch.
"We don't dive as much but we can be aggressive in a tackle and very competitive," she said.
"The only difference is that we say sorry after an incident
"I just love playing football, it's the teamwork.
"There is a stereotype that football is a man's game and that's wrong.
"We've proved that we're just as good as men with the World Cup. Some people wind me up but I just shrug it off.
"We train eight times a week.
"Each generation coming up has more chance of making it professional, we need to keep encouraging women."
Changing attitudes
Mark Slater is the Scottish FA club development manager for the north. He believes attitudes are changing.
"There has been a huge culture change and women's football has been on the increase in recent years," he said.
"Historically there have been boys' clubs in the north-east.
"This has changed to community clubs, which welcome female players.
"I think girls need to be encouraged to play football from a young age, ideally at primary school.
Stuart Bathgate has grown up with football having played from a young age.
But the sales manager admits he never saw himself becoming a coach.
That is until his daughter, Natasha, matched her dad's passion for the game.
"When I was at school there was a stigma about girls playing football," said Stuart.
"Girls didn't like watching football, let alone playing football.
"Then Natasha wanted to play and I realised there wasn't really an outlet.
"So now I coach the Westdyke girls under-11 squad, who Natasha plays for.
"She also plays against boys and sometimes girls can be better than the boys.
"I coach the Westdyke women's team and our players vary in age from 14 to 40.
"We took some of the younger players to watch a game at Hampden and they found it so inspiring.
"Now girls are saying they want to play for Scotland and be at the next World Cup.
• The Scottish FA hopes to attract new players of all ages, in a bid to continue with the momentum generated by the World Cup. You can find out how to get involved at www.facebook.com/scotlandnationalteam