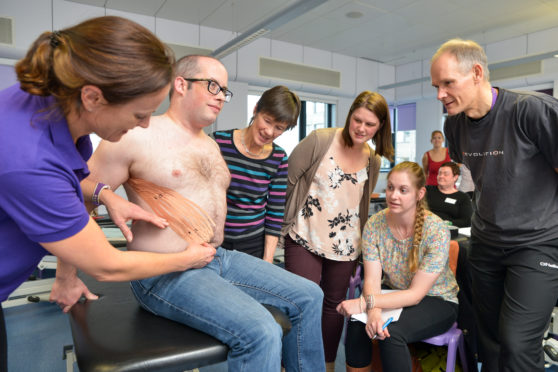 Hundreds of islands patients could receive life-enhancing physiotherapy treatment thanks to the legacy of a cancer patient.
The Jane Tomlinson Appeal is funding two study days in the Western Isles and Edinburgh to share knowledge of kinesiology taping – the sort of strapping used by Olympic athletes – in relieving the symptoms of people with cancer.
Research into the potential benefits of the taping was one of Jane Tomlinson's final wishes before her death in 2007.
For Mrs Tomlinson, the tape helped to lift her ribcage, giving her organs – which had swollen during her cancer treatments – more space to move. It reduced pain levels and relieved pressure on her stomach, allowing her to eat and drink properly.
Since seeing the dramatic results,  her family have wanted to see if other patients could benefit.
The appeal has funded a three-year PhD research project at Leeds Beckett University into the effects of the taping on pain relief in cancer patients.
Mrs Tomlinson's widower, Mike, said: "When Jane died she left me with very little instructions, apart from how to operate the washing machine, but she did ask me, once we had raised enough money, to investigate how kinesiology taping could help other people living with cancer.
"Often the drug treatments Jane received were worse than the illness itself. In her final few months, the one thing that improved her quality of life was the taping. It seems such a simple thing, but the benefit was immediate and without any side effects – something that could not be said for the very harsh drugs."
The sessions will take place at St Columba's Hospice in Edinburgh on September 9 and at the Western Isles Hospital in Stornoway on September 11. The places are free to NHS or third sector practitioners.
Professionals wanting to apply for a place on either day should e-mail info@janetomlinsonappeal.com with details of their organisation and role.