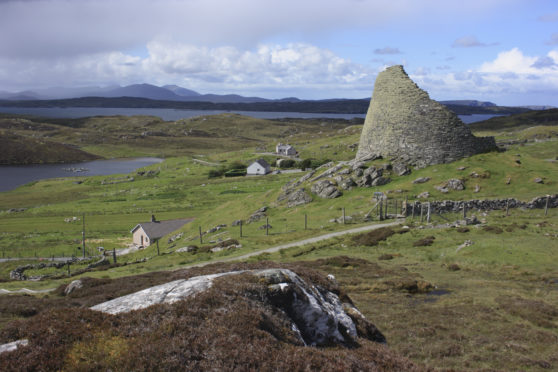 One of the Outer Hebrides best known tourist attractions has closed for safety reasons.
Carloway broch on Lewis is potentially hazardous, according to Historic Environment Scotland (HES), and tourists are advised to keep away.
Two thousand years of storms have loosened a number of heavy slabs at the top of the fort and HES has shut off access until it can be made safe.
Many thousands of people visit the historic fort in the village of Doune Carloway every year.
The structure is the country's second best example of a unique Scottish fort and the finest Iron Age building in Lewis.
The type of construction is exclusive to Scotland though its precise use is under dispute.
It commands a prominent position high on a craggy hill with an unrivalled view of the mouth of the Loch Roag sealoch and of the valley below.
Local councillor Ranald Fraser said: "I hope Historic Environment Scotland alongside our community partners can resolve this matter as safely and as promptly as possible."
He added: "The broch at Doune Carloway is one of our islands great landmarks.
"Tourism is vital to the economy of East Loch Roag and our islands.
"I am sure others will look forward to visiting this ancient monument very soon again once assessments have been completed."
A Historic Environment Scotland spokesman said: "We took the decision to close Dùn Carloway Broch after we identified some loose high level masonry and a potential structural issue.
"As the safety of members of the public is our utmost concern, we have put measures in place to restrict access to the site and have erected signage to inform visitors.
"The broch will be closed until further notice until we are able to resource more detailed assessment and repairs.
"Until the site is reopened, we would encourage people to stay away from the broch due to the risks involved."