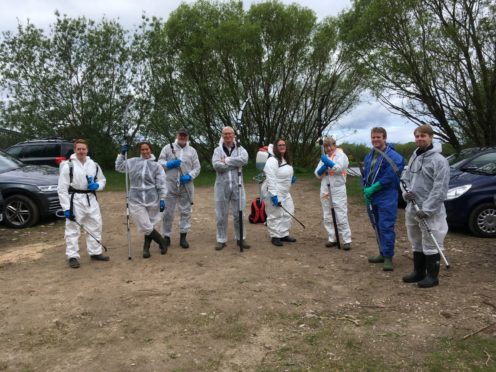 Volunteers have received a funding boost to help battle the dangerous plants which have infested the area around a Moray beauty spot.
The Gordon and Ena Baxter Foundation, a legacy trust formed by the pioneers behind Baxters soup, has awarded the Scottish Wildlife Trust £2,400 to purchase equipment needed to tackle the problem at Spey Bay Wildlife Reserve.
Woodland and coastal shingle habitats on the site are under threat from Himalayan balsam, Japanese knotweed and giant hogweed – which can cause severe skin burns.
Invasive species can quickly spread and result in the loss of native plants and the money will go towards the purchase of tools and protective clothing to remove them.
Michelle Henley, reserve projects officer for the Scottish Wildlife Trust, said: "Invasive non-native species are one of the biggest threats to Scotland's wildlife.
"When these plants are allowed to out-compete native species it can have a knock-on effect all the way up the food chain, for example by depriving butterflies of the plants they lay their eggs on.
"We are aiming to remove and control the spread of giant hogweed, Japanese knotweed and Himalayan balsam to allow native species to flourish again.
"Building up a strong team of local volunteers is vital for this long-term work, and the financial support has made a huge difference by allowing us to get more people involved."
The Gordon and Ena Baxter Foundation's manager, Kay Jackson, added:  "The beautiful Spey Bay Wildlife Reserve attracts visitors from the local area and beyond, and so we are thrilled our award of £2,400 will be used to help to protect this special place for generations to come."
The Trust organises regular volunteer days at Spey Bay Wildlife Reserve. For more information people can visit scottishwildlifetrust.org.uk