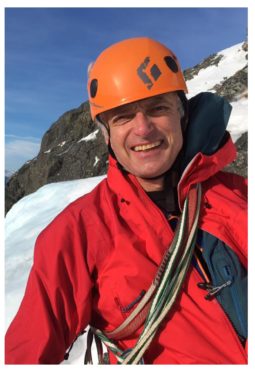 The heartbroken loved ones of a missing Highlands mountaineer last night revealed that the search for him has been called off.
In a post on social media, the family of Martin Moran accepted publicly for the first time that the beloved mountaineer is dead – and said they would cherish his memory by scaling the mountains he held dear.
And they confirmed that, with monsoon season "in full force", efforts to retrieve his body from the Himalayan range he died on have been stood down amid fears for the safety of rescue teams.
The joint statement said: "We would like to make a final statement regarding the tragedy that has unfolded in the Nanda Devi region of the Indian Himalaya.
"Martin and seven fellow climbers lost their lives in a mountaineering accident that we believe took place early on May 26.
"The recovery of the climbers was undertaken by the Indian Mountaineering Federation, the Indo Tibetan Border Police and the Indian Air Force.
"This has been a lengthy and complicated recovery operation at high altitudes of over 15,000ft, a monumental effort under extremely difficult circumstances, and we are all grateful for their extraordinary efforts.
"We understand that, in the coming days, the bodies of seven mountaineers will be repatriated to their respective countries and loved ones.
"It is with a heavy heart that we can now confirm that the eigth member of the expedition, whose body remains missing in the mountains, is that of Martin Moran.
"With monsoon season in full force in the Himalaya, the conditions in the mountains have worsened and, with the safety of the recovery teams in mind, the search for Martin has been called off."
Th family thanked well-wishers for the "overwhelming outpouring of love and support" they have received.
They added: "Your kindness has given us hope and light on the darkest of days.
"Martin was a beloved husband, father, friend and colleague.
"We will honour his memory by continuing to journey into the mountains and to all the places he held dear."
Veteran mountaineer Mr Moran had led a team of four Britons, two Americans, an Australian and an Indian on an expedition up the 25,600ft Nanda Devi East mountain, India's second highest peak.
Contact with the group was initially lost on May 26, as the prelude to an air search being launched after the group failed to respond on May 31.
Mr Moran had run regular expeditions in the Himalayas since 1992, where he worked with local partners.
He is survived by his wife Joy and their two grown up children Alex and Hazel.
The family all worked at Moran Mountain – an international mountain guiding business based near Torridon in the west Highlands.
Yesterday, Mr Moran's family launched an appeal to raise £5,000 for the Indian Mountaineering Foundation and the Torridon Mountain Rescue Team as a way of thanking them for their efforts.
Donations to the fund can be made at www.justgiving.com/crowdfunding/moran-mountain