With his neatly combed hair and perfectly ironed shirt, Eddie Maitland is every inch the dapper gentleman.
He carefully removes his dancing shoes from the box and it comes as no surprise that they have been polished until they gleam.
It is a familiar walk to the sprung floor at Aberdeen Beach Ballroom, down the grand staircase and into the stunning circular space, which quickly becomes filled with enthusiastic fellow dancers.
As the catchy hits of Abba echo into the acoustics, Eddie takes to the floor.
In his mind, he is no longer a 92-year-old widower; he is a handsome young man eager to meet his partner's approval.
Betty was an experienced professional dancer who Eddie had the privilege of dancing with night after night.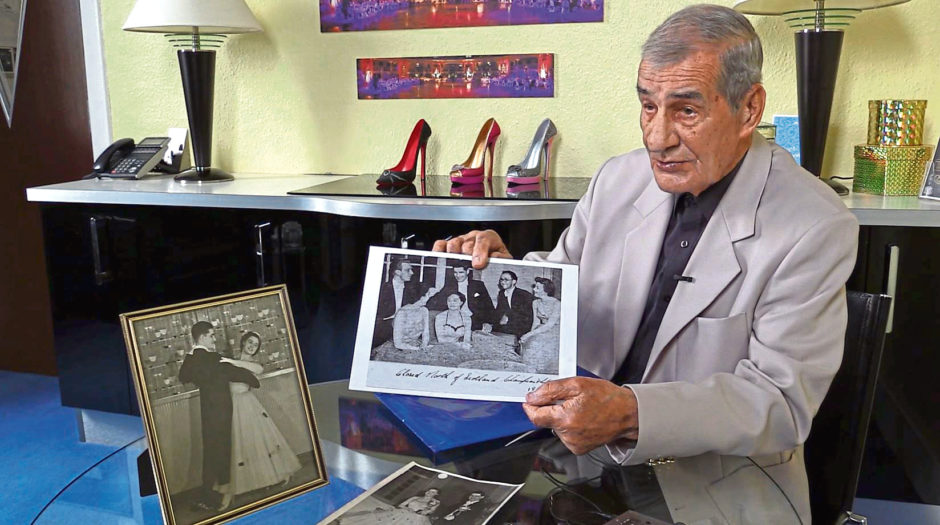 She was the only woman in the room who had his attention, the skirt of her home-made dress twirling in time to the beat.
There were dozens of competitions where the popular couple emerged victorious after they burst on to the ballroom dance scene in the 50s.
And there were endless Saturday nights where they would join hundreds of other dancers, because Aberdeen Beach Ballroom was quite simply the place to be.
It has been 90 years since it first opened its doors and Eddie is still every bit as devoted.
Betty died eight years ago and Eddie struggles to talk about his late wife without becoming emotional.
His visits to the ballroom serve as a wonderful reminder of times gone by, but are also filled with aching nostalgia.
And he is not alone in his loyalty, for the Beach Ballroom is so much more than a salt-lashed building on the promenade.
It is the people's ballroom and has even been described as the finest dance hall in Scotland.
When it opened on May 3 1929, it also featured a restaurant and tea lounge.
More than 1,000 people attended the grand unveiling, dancing the night away to an orchestra.
They circled the fountain under the watchful eyes of attendants, who made sure no one behaved inappropriately.
The fountain is long since gone, but the memories remain, accompanied by the steady march of time which has seen each new generation make the ballroom their own. Famous names to have performed there include The Beatles and Pink Floyd and youngsters jumped up and down on the very same sprung floor to Enter Shikari earlier this year.
The granite building survived the Blitz and was even reborn after it was ravaged by fire in 1993, but its future now lies in doubt.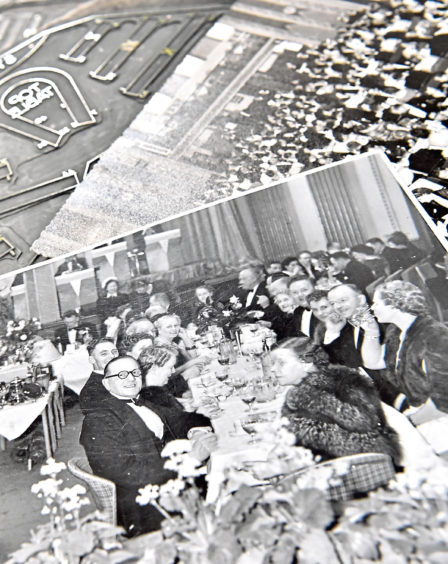 Aberdeen City Council is looking for private operators in a bid to reduce the ballroom's cost to taxpayers.
It is run at a loss and options include calling in the private sector to see if the renowned institution can be run more effectively.
The decision has been slammed by the local SNP group, while council leaders have argued that they must make tough choices.
Politics aside, what does the ballroom really mean to both the young and old?
your life was given a special tour by ballroom manager John Johnstone, who believes people must continue to make memories in order for the beloved building to survive.
Those who can remember the glory days also reminisced and explained why they still find the time to visit today.
For Eddie, the ballroom is a second home and he sometimes hit the dance floor seven nights a week in his youth.
He is remarkably fit for his age and still favours a slow foxtrot, his favourite dance to perform with Betty.
"I started competing with Betty in 1952, I met her when she was 17," said Eddie.
"She was dancing at the Lucarno Ballroom in George Street; I asked her for a dance and that was the start of things. Lots of people met their husband or wife through dancing in those days.
"She was a much better dancer than me. I was OK at dancing but Betty encouraged me to take lessons.
"We joined Tom and Meg Murray's Dancing School, which was above the Burton's Menswear Shop in Market Street.
"We did pretty well when we started competing and won quite a few competitions.
"We even qualified for the BBC Come Dancing competition; this was long before Strictly Come Dancing was even thought of.
"We used to practise every night at the Beach Ballroom, it can be quite hard to be here sometimes.
"I lost Betty eight years ago and there are moments when I am here, all the memories come flooding back.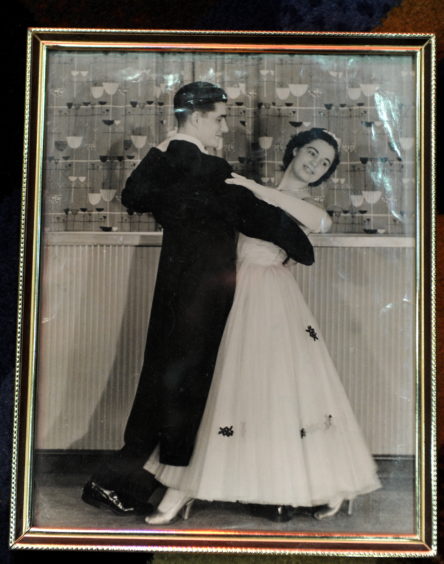 "I have a favourite picture of us, I think we were asked to strike a pose maybe.
"And I just think it shows Betty looking her best; she made all her own dresses.
"She'd buy the material and stitch hundreds of sequins on.
"And the caricatures on her dress were drawn by hand and cut out.
"She looked the business, she'd dye her satin dancing shoes in a matching colour."
Eddie also looked rather dashing and always wore a smart suit. It was unheard of to arrive for a night at the ballroom wearing jeans.
The couple stopped dancing professionally when a change in Eddie's work hours as a salesman meant they could not rehearse as much.
The Beach Ballroom always welcomed the couple back, however and Eddie was determined to keep dancing after Betty's death.
"My dancing friends have been incredibly loyal to me," he said.
"The ballroom is a very special place to me because it is filled with my memories.
"You used to get two tickets for half a crown; the crowds on a Saturday night were something else.
"There was a terrific atmosphere and we danced to Victor Silvester.
"Disco music wasn't a thing then, we had Lesley Thorpe with the big band instead.
"I still like to step out on the sprung floor, it feels the same as it did all those years ago."
That wonderful light-footed feeling can be partly attributed to the fact that the springs have never been changed, although the floor was replaced several years ago.
These gems of history are routinely offered by John Johnstone, often the last member of staff to lock up the ballroom come the end of the day.
He is passionate about maintaining its future and is highly spoken of by visitors both old and new.
As ballroom manager, John helps oversee day-to-day running and has been instrumental in booking news acts.
There is not much about the ballroom's history he does not know and he has also become an unofficial custodian for memorabilia.
From old yellowed menus found tucked away in drawers, to black and white photographs left in forgotten filing cabinets, John has carefully gathered relics of the past and displayed them throughout the building.
He clearly adores the ballroom and has also been in charge of the 90th birthday celebrations, which are taking place throughout the year.
"I've always though that the Beach Ballroom is a little bit like an old lady," he said.
"She's tired and neglected in the day, but come the night when she puts her make-up and glad rags on, she dazzles.
"I think people always associate this place with the ballroom itself, which is understandable.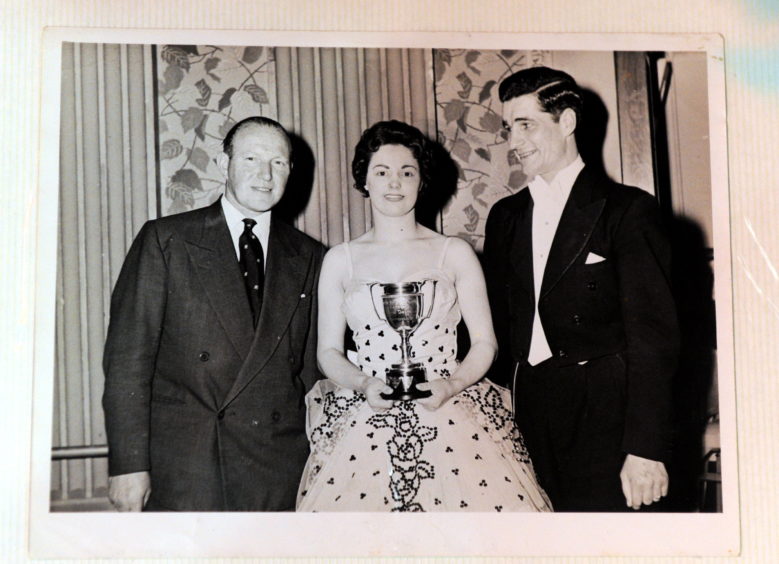 "We have so many other rooms, many of which are available for public use."
There is the Promenade Suite which was previously used as a cafe and is now often favoured by Rotary clubs for afternoon tea.
Staff still provide a service wearing tail coats and John thinks it is important to preserve the nostalgic look.
"There's something very traditional about having your tea poured by staff who are properly dressed," he said.
"Afternoon tea is very popular here and that's lovely to see after all these years."
There is also the Star Ballroom, which is used for family celebrations and weddings.
The Soda Bar was completed in 2014 and now oozes glamour and sophistication.
Much of the work was carried out by staff and completed on a tight budget.
"We are like a family here, everyone is so dedicated," said John.
"It's a very special place to work, especially when you look out the window and see the dolphins jump.
"We need people to continue to make memories in the ballroom.
"That's why we're catering for people of all ages, with events such as the Princesses of Pop show.
"We'll have tributes for Ariana Grande and Little Mix.
"If you've ever wondered what the point of having a sprung dance floor is, you've never seen hundreds of youngsters jumping up and down.
"We are having events all year to celebrate our 90th birthday, which is pretty exciting.
"When I turn all the lights off and lock up for the night, I'm always reminded of what an incredible privilege it is to take care of the ballroom. She's the people's ballroom and memories help keep her alive."