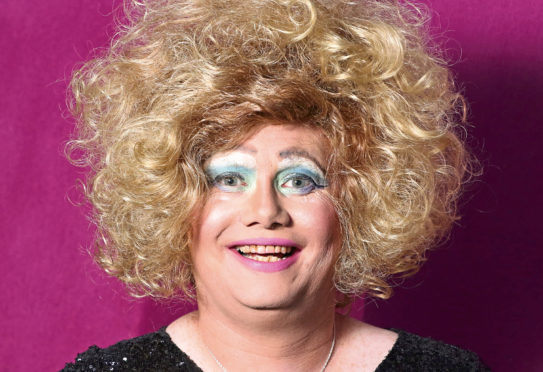 Alan Mackay has a keen eye for bargains, and can often be found scouring charity shop rails or trawling eBay.
The 37-year-old has a very specific look and struggles to find just the right outfit which comes in his size. When we meet at his home in Cornhill on the outskirts of Aberdeen, his shopping habit is by no means apparent.
Wearing a lemon jumper and trendy white trainers, Alan appears a perfectly ordinary, albeit fashionable, man.
He is, in fact, leading a double life, and his wardrobe is bursting with demure sequin dresses and flowing wigs.
For when the occasion calls, Alan transforms into a woman called Ivanna and travels the north and north-east as a drag queen.
He has perfected the act over the past 16 years after dressing up for a charity event.
From wearing lipstick and heels for the first time, Alan hasn't looked back and hopes to blaze a trail for fellow drag performers.
Originally from Inverness, he was the first drag queen to perform in the Highland capital.
He is also part of the very first drag act which will take to the stage at Belladrum Tartan Heart Festival next weekend.
Alan believes that drag is becoming more mainstream, with greater acceptance and respect for performers.
He thinks there is still a long way to go, though, and his diary is packed with upcoming gigs in the hope of making a difference.
It has not been an easy journey and Alan has been physically assaulted when wearing drag on a night out.
He was also diagnosed with rickets last year and is registered disabled, having been born with a calcium deficiency.
But the use of a walking stick won't rain on his parade, and it will take more than a painful condition to stop Ivanna from entertaining the audience.
"It all started because of a fancy dress night in a pub in Aberdeen," said Alan.
"It was to raise money for a charity and we thought it would be a laugh to dress up in drag.
"That was 16 years ago; I never believed for a second that anything would really come from it.
"I have campaigned my entire life for equality, and growing up in Inverness was sometimes a challenge.
"The city is only in its second year of a Pride event and there was even a petition to try and stop it from going ahead.
"So drag was quite a daunting concept but it was also my way of taking a stand.
"Ivanna's personality has developed over the years and now she knows what she's about."
Ivanna is a widow, and Alan deliberately chose to perform as an older woman.
"She's a bit different, she's older but not Mrs Brown's Boys style," he said.
"She's in her 40s and she has a daughter.
"She loves a flirt with the younger lads, she's always selective with what she wears.
"She's not mutton dressed as lamb and she's also very funny.
"Her husband was killed by the drink, he was knocked down by a Tennents lorry."
But where did Alan find his inspiration for such a bubbly character?
The next generation of drag performers have inspiration at their fingertips, thanks to YouTube make-up tutorials.
A recent Channel 4 series, Drag SOS, has also seen people unfamiliar with drag being given a makeover, in a bid to find more confidence.
"I grew up watching old-school comedy drag queens on the BBC," said Alan.
"I was inspired by the likes of Lily Savage and Danny La Rue.
"I couldn't watch videos on how to do my make-up, but I studied queens like Lily carefully.
"My best friend is a make-up artist and that has also been helpful."
Getting ready can take two hours and Alan squeezes himself into various costumes.
On his own admission, the life of a drag queen is far from comfortable and he struggles to find high heels in a size 10.
"I'm a nine-and-a-half in shoes at a push, and I have to suck everything in when I put my dress on as well," he said.
"It isn't easy and I certainly don't get paid well for it.
"A private gig would probably cover the cost of my dress."
It begs the question as to why Alan's alter ego is increasingly taking centre-stage?
"Ivanna has a much bigger wardrobe than me," he said.
"My mum lends me stuff as well, although she hasn't been to one of my performances.
"She says I look far too much like her when I dress up.
"It has always been about escapism for me.
"As soon as my make-up is on and my wig is in place, Alan is gone.
"I don't answer to the name Alan when I am in role as Ivanna, I don't recognise the name.
"I've struggled with mental health my entire life; drag performing is a bit like therapy.
"No matter what is going on in my life, it is all put to one side when I become Ivanna.
"The response from the audience is normally amazing.
"I sometimes feel apprehensive at a stag do, when the bloke is blindfolded and thinks he is getting a stripper.
"Only it turns out to be Ivanna.
"Everyone always has a good laugh, though."
Alan believes there is a misconception that a drag queen must be male, when a woman can also perform in drag.
"Drag performing isn't exclusively for men, anyone can do it, regardless of gender or sexuality," he said.
"A woman can do drag simply by dressing up as a drag queen.
"Or she can be a drag king and dress up as a man."
Alan is considering taking Ivanna on tour across the north and the north-east.
He is also set to perform at Belladrum on August 2.
"It's absolutely crazy, this is the first time that Belladrum has hosted drag performers and the festival is sold out," he said.
"We aren't getting paid well but this is an invaluable chance of exposure.
"It's an opportunity to show people what drag is about. I think we desperately need that.
"Once I'm dressed as Ivanna, the mask comes on and it's time to have a good time and a G&T.
"Attitudes are changing and I really think this is our time now.
"One of my performances uses the song This Is Me, from The Greatest Showman.
"I start taking off my make-up and reveal my jeans under the dress while I'm singing.
"At the very end I transform back to Alan in front of the audience. The words couldn't be more apt, this is me."
There are clearly exciting times ahead for the next generation of drag queens, who have more opportunities than their predecessors.
At six feet tall, Arry Long cuts quite the figure, complete with broad shoulders from his demanding job as a gardener.
Manicured nails and digging up flowerbeds don't normally go hand in hand, but Arry regularly swaps his day job for life on the stage.
The 27-year-old from Huntly is leading the way for a monthly drag event in Aberdeen, and performs as Sir Amy Change.
We meet the day of his first performance at the aptly named event, Aberquines, which now has a regular slot at Cheerz nightclub on Hadden Street.
He is mid-transformation with glittering gold nails, and getting ready takes roughly four hours.
His high cheekbones undoubtedly lend themselves to a smudge of blusher, but Arry also uses make-up to contour cleavage on his otherwise masculine chest.
"I started drag by accident, there was a drag musical at The Tivoli and the cast was short of male performers," he said.
"I agreed to help out and Sir Amy Change was born.
"She's sassy and she often complains about her ex-boyfriends."
Arry believes that drag and comedy can go hand in hand, and Aberquines combines drag acts with comedy performances.
The first event was held at the start of this month and attracted roughly 100 people.
Arry's make-up case is festooned with unicorn stickers and houses every shade of lipstick imaginable.
"I started off with a handful of make-up brushes and I've built the collection from there," he said.
"When I was little I would dress up, but my dad's family always discouraged it.
"I ended up going for a really masculine job, getting dirty and lifting heavy things.
"Sir Amy Change is a protest against anyone who says that boys can't wear make-up and have to like football.
"I think people assume drag is just a man dressing up. It's so much more than that.
"If you look at people like Keith Lemon, what he does is drag.
"Myself and fellow performers want to create a regular drag scene here in Aberdeen.
"When I have a full face of make-up on and a sequined playsuit, I feel invincible."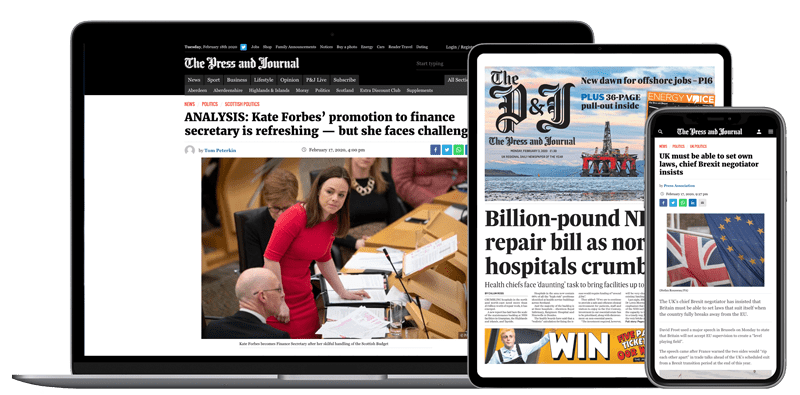 Help support quality local journalism … become a digital subscriber to The Press and Journal
For as little as £5.99 a month you can access all of our content, including Premium articles.
Subscribe