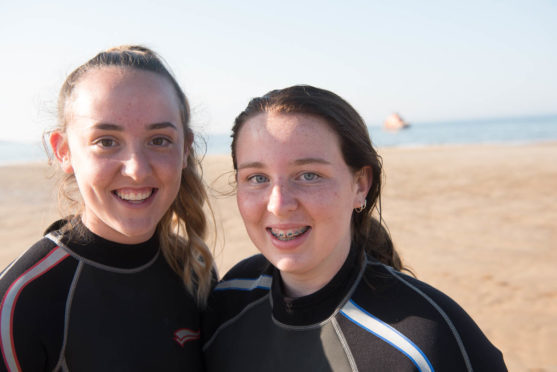 Two teenagers, who were involved in a dramatic rescue at sea last month have been shortlisted for a new award.
Eilidh Noble, 15, and her sister, Isla, 14, from Fraserburgh, were hailed as heroines after they saved a man and his four-year-old son from drowning.
The duo, who later explained their involvement in the incident in rich Doric tones, have now been nominated in the 'Young Scots Spikker of the Year' category in the Scots Language awards which will take place in Glasgow on September 27.
The youngsters were soaking up the last of the day's sun at Fraserburgh Beach when they heard cries for help.
The pair spotted a man struggling in the water with a young boy on his shoulders and sprang into action –with quick-thinking Isla jumping into the water with a lilo.
She hauled the four-year-old on to the float while another passer-by, Keith Gray, swam out to help pull them to shore.
Eilidh, meanwhile, remained on the beach and raised the alarm with the emergency services, before researching the recovery position online.
An air ambulance was scrambled to the scene, while RNLI Fraserburgh also attended.
The man, who was "blue" when he was pulled from the water, regained consciousness on the beach and was flown to Aberdeen Royal Infirmary as a precaution – but not before he thanked the girls for saving him and his son.
Isla said: "To begin with I thought they were just playing but then he started to shout 'help'.
"I didn't think – I just swam out as quickly as possible and pulled the kid on to the lilo."
Eilidh said: "He had taken in a lot of water and was blue.
"We'd called the coastguard and an air ambulance landed right in front of us at the beach. I don't think what happened has really sunk in yet."
While the teenagers and Mr Gray had been pulling the man to shore, a passing nurse, Sophie Ross, stopped to help and their combined efforts were successful.