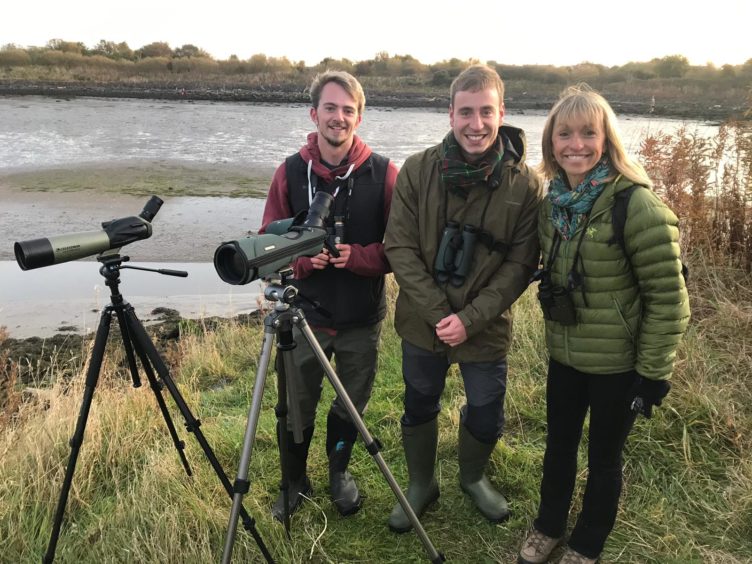 Students from Scotland's Rural College have joined TV presenter Michaela Strachan on a wild goose chase for the latest series of the BBC's wildlife programme Autumnwatch.
Bird watchers Gus Routledge, who is in his final year at SRUC's Aberdeen campus, and Simon Ritchie – who graduated two years ago – have been looking for rare geese among the myriad migrating birds which return to Scotland in the autumn.
After chatting to a cameraman friend about their hobby, the duo were contacted by producers from Autumnwatch and have spent time filming with the crew this month.
Mr Routledge, who is studying countryside management, said: "We travelled around Angus and south Aberdeenshire, while following the geese from their roost site at Montrose Basin to various feeding grounds on farmland and then back to the roost in the evening.
"We always go out at this time of year and you never really know what you are going to find. Occasionally, rare geese turn up – so it is just a matter of you being in the right place at the right time.
"We were lucky and we managed to find a rare snow goose amongst all the pink-footed geese – there are only one or two records of this goose in Scotland every year."
Mr Routledge first took an interest in studying geese during his first year at SRUC after he had enjoyed doing a student placement at Scottish Natural Heritage's Loch Leven reserve, where he was fascinated by the instinctive behaviour of the birds.
He added: "At Loch Leven, they have got about 20,000 pink-footed geese and I would go out and count them for SNH.
"Simon does counts at Montrose Basin where there have been as many as 85,000 pink-footed geese."
The programme featuring their investigation into the migratory patterns of geese will air on Wednesday evening at 8pm on BBC Two.