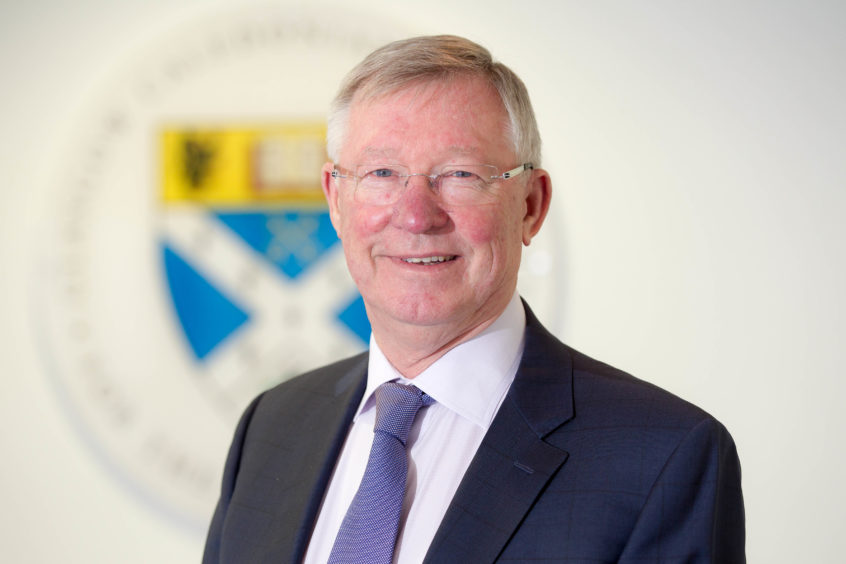 He's one of football's legends: a manager with Jim Taggart's eye for staring down opponents, and a man who was so proud of his Glasgow roots that he used to drink his morning coffee from a mug emblazoned with the words: "AhcumfaeGovan".
Even now, at 77, Sir Alex Ferguson tells youngsters to read, study, work hard and pour themselves into life on and off the pitch.
And the pride in his face was obvious yesterday when a worn football shirt, an early coaching notepad and a manager-of-the-year trophy were unveiled as part of a hand-picked treasure trove which has been donated to Glasgow Caledonian University by the former Aberdeen and Manchester United gaffer.
He has granted the university an indefinite loan of a number of personal items, which have been used to create a display in a part of the building which has now been renamed the Sir Alex Ferguson Library.
Sir Alex, who famously led Aberdeen to glory in the European Cup-Winners Cup against Real Madrid in Gothenburg in 1983, has been a longstanding supporter of the university's students in his capacity as an honorary graduate, and most notably in his role as founding donor of the GCU Foundation, to which he has donated £700,000.
The display, which is named 'Sir Alex – My Story in Objects', represents key decades of his life and also includes early childhood photographs, a Queens Park team photo from the 1958-59 season, his A-licence coaching certificate from 1979 and a diary from 1993 – the season he won his first Premier League title with Manchester United.
Sir Alex said: "I've had a brilliant relationship with GCU over many years now, and it is an absolute honour that the university has chosen to name its library after me.
"The university was keen to give an insight into the person the library has been named after and I hope that donating personal items from my life will help to do that.
"I thoroughly enjoy returning to the university and listening to students speak passionately about their experiences.
"I see great ambition and potential in many of our young people."