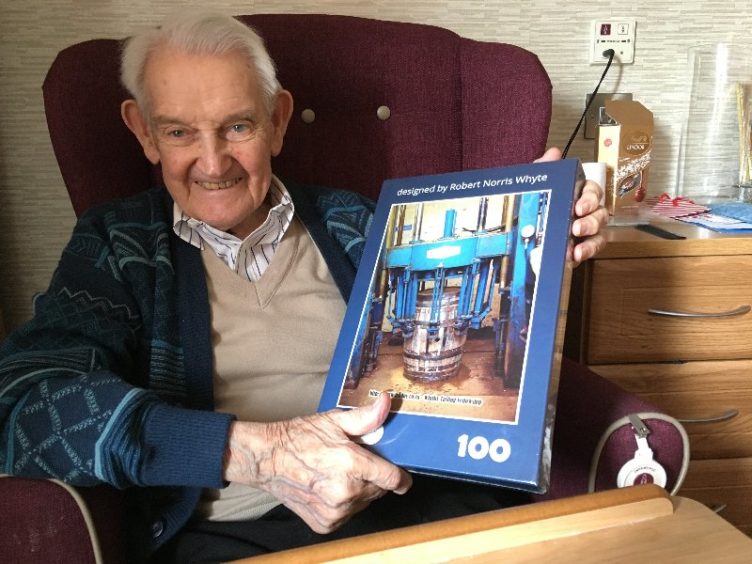 Robert Whyte, who has died at the age of 94, was a successful north-east businessman.
Known as Norris by most of his friends, he was a well-respected engineer and entrepreneur who started his own family business, Schoolhill Hydraulic Engineering Company, which he managed for more than 40 years.
His wife Jean died 18 months ago and Mr Whyte's son, Ronald, said his father "never really came to terms with this as she had always been there to look after him and the affairs of the house".
Born in 1925 in Longside, he spent his early life in Mintlaw and Longside, where his family were involved in several local businesses.
His uncle ran the local bakery and his dad a garage.
He left school at 14 and began work as a grocery delivery boy until he was able to gain an engineering apprenticeship with Wilson's, a local engineering company.
Mr Whyte's father worked as a tyre salesman and visited many car dealers and blacksmiths around the country, where he was asked to get spare parts for agricultural and construction machinery. These were in short supply after the Second World War.
It was not long before the youngster found he had so much work he was employing two or three of his friends and had established an engineering business by the time he completed his apprenticeship.
Rented premises became available at the old Schoolhill Station, which was at one time the first stop from Aberdeen on the northern line, and Schoolhill Light Engineering Company was born.
His son recalled: "The business did pretty well and he turned his ingenuity and engineering skills to the manufacture of long cylinders and telescopics for mobile cranes.
"This was high precision work which very few competitors were able to manufacture and the company became one of the leading manufacturers in the UK."
In 1970, he purchased a large house in Rubislaw Den South, which became the family home for many years and was where his five children, Ronald, Maureen, twins Sandra and Jennifer and youngest daughter Shirley grew up.
In the 1970s, he was approached by the Cooperage Manager from Wm Grant Distillers who were having difficulty in re-assembling American Bourbon barrels they had taken into the UK as flat packs.
He very quickly came up with complete machine designs using Schoolhill hydraulic cylinders and valves and persuaded Grants to try these machines instead of trying to upgrade their ageing American equipment.
This was very successful and a range of Cooperage machinery was born. The orders came flooding in.
His life wasn't just about work. He was a keen footballer – who was offered a trial for Arbroath FC – a founder member of St Fitticks Rotary Club in Aberdeen, a member of Deeside Golf Club and a member of the NOMADS Curling Club who annually travelled to Switzerland to play in local competitions.
Mr Whyte is survived by his son and four daughters.