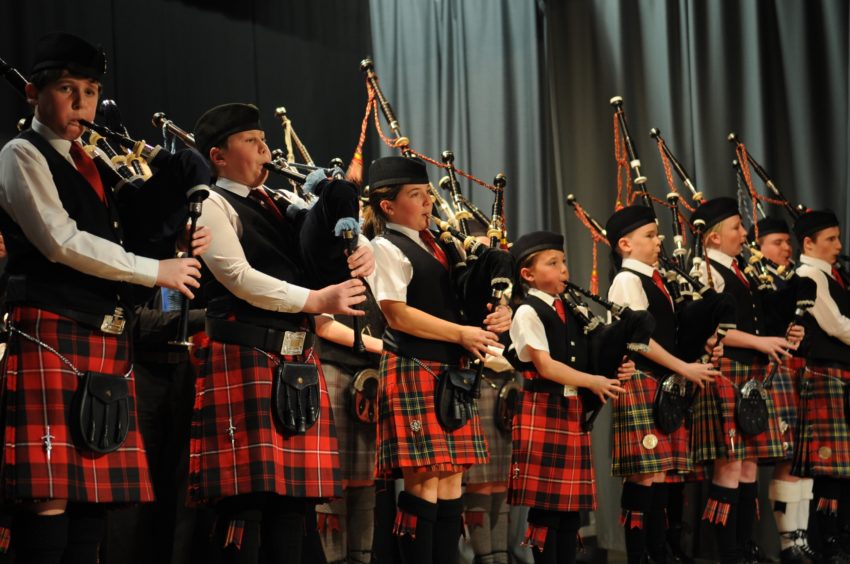 They are part of Scotland's heritage and a staple of Highland Games across the north and north east of Scotland.
But now a national organisation has claimed that more than 30,000 young Scots would learn to play pipes and drums if they had the chance – yet only 6,000 are learning so far.
With the pipes and drums the centrepiece of Hogmanay celebrations across the world, the Scottish Schools Pipes and Drums Trust has warned of a genuine threat to the country's musical heritage.
Opportunities to learn piping have disappeared in many communities where local pipe bands have folded and tuition has stopped in their schools.
Research commissioned by Creative Scotland and conducted by The Royal Conservatoire of Scotland found that more 100,000 pupils want to learn an instrument at school but are unable to.
Based on the popularity of the pipes and drums whenever SSPDT introduces them to schools, it estimates between 30,000 and 54,000 youngsters are interested in playing the pipes, but only 6,000 are currently being taught in state schools across Scotland.
Alexandra Duncan, the SSPDT's chief executive, said: "It's clear that there is a huge unmet demand to learn pipes and drums amongst Scotland's pupils.
"When bands in our towns and communities vanish quietly, and when there is no tuition in local schools either, we lose a precious cycle of teaching and learning – and it's this silent decline that we're trying to address with partners.
"However, in areas like Lossiemouth, Elgin, Forres, Kinross and Blairgowrie, new tuition programmes are being set up to boost community pipe bands.
"Piping and being part of a band gives young people a sense of belonging and develops a wide range of life and employability skills including teamwork, individual and shared achievement, discipline, commitment and self-confidence.
"We believe it can change lots of young people's lives for the better."
In collaboration with schools and councils, the charity supports free tuition for all, helping to address inequalities in access to music tuition and providing additional opportunities to those eager to learn.
Ms Duncan added: "We think that traditional music should be cherished and the skill to play the pipes has the potential to become a lifetime pleasure.
"The demand we have seen so far proves piping and drumming is still popular, but the lack of opportunities puts it at risk – there is a lot of work to be done."
The Trust has thus far helped to form 47 schools pipe bands, building on tuition provided in 265 schools.
It is supporting projects in 22 local authority areas including Aberdeenshire, Moray and the Highlands and Islands.
For more information on the initiative, visit sspdt.org.uk.