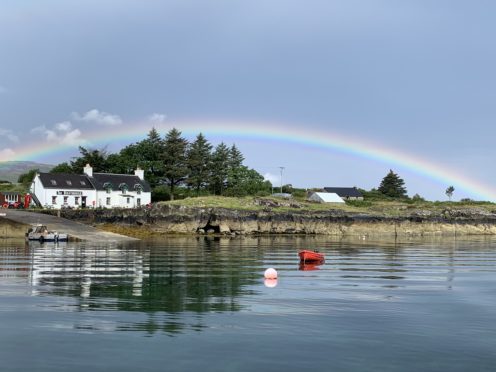 A building on Scotland's newest community-owned island has received more than a million pounds of funding for its restoration.
Ulva House, the main residence on the Hebridean locale, gained the boost with the announcement of funding awards of £812,682 from the Natural and Cultural Heritage Fund and £212,000 from the National Lottery Heritage Fund.
The project, Storas Ulbha, is part of a new £5million Scottish programme to invest in the Highlands and islands to provide more and better-quality opportunities for visitors to enjoy natural and cultural heritage assets.
The renovated building will feature a heritage centre, which tells the story of Ulva's people, and will also contain an annexe providing self-catering accommodation.
The venture will celebrate Ulva's People – the impact they have had in history across the world, and the impact they will have in building a new community on the island.
Built in the 1950s, the Grade B-listed Ulva House is a rare example of a large mansion house of the early post-war building period in Scotland which is largely unaltered.
It was designed by an important 20th-century Scottish architect, Leslie Grahame-Thomson, with an unusual and distinctive regency style interior scheme.
Colin Morrison, chairman of North West Mull Community Woodland Company, expressed delight at the news of the seven-figure funding.
He added: "We are thrilled to have received these awards which will see the restoration and repurposing of a key island building, bring it into community use for the first time and showcase Ulva's extensive natural and cultural heritage.
"Finding a sustainable use for Ulva House, alongside the refurbishment of the residential properties on Ulva, are key aspects of our plans to refurbish Ulva House and the overall regeneration strategy for the island which secured the original community buyout funding [in 2018]".
The company is now looking to appoint a project manager with work starting on the refurbishment towards the end of this year.
The new centre will open to the public in the summer of 2021.