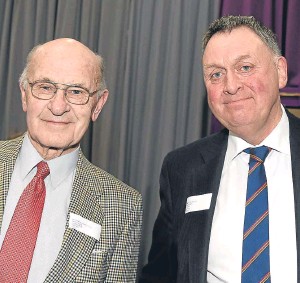 One of the North-east's leading beef producers, with a reputation of perfection in breeding and feeding cattle, has died at the age of 89.
Orkney-born George Ritch moved with his parents from Bankhead, Dounby, to East Fingask, Oldmeldrum, in 1944 at the age of 13, and following his father's death in 1955, expanded the family's farming business from 240 acres of rented land to 900 acres owned at present.
He was instrumental in persuading his father to make the move from Orkney after being impressed with a field of wheat when viewing East Fingask, which is recognised as one of the best and most fertile farms in the area. But his real passion was beef cattle where his judgement in the selection of stock was second-to-none.
Mr Ritch was a congenial but private man who lived for his farming and liked nothing better than going round the marts meeting his farming friends and buying store cattle for finishing.
In earlier years, he was a regular at ANM marts such as Huntly, Aboyne, Dufftown, Tomintoul and Elgin – all now closed – and in more recent years at Thainstone, as well as having cattle sent to him from Orkney.
The year 1975 was a turning point when the opportunity arose to buy East Fingask as sitting tenant. With rampant inflation, borrowing was soon paid off and advantage was taken of the Farm and Horticultural Development Scheme (FHDS) to build new silage pits and cattle courts.
It was a big move to uproot from Orkney. Mr Ritch used to recall the flitting to Aberdeenshire trailing a henhouse full of hens behind the car and trying to negotiate the road network where all signposts had been removed in case of a wartime invasion.
He said: "It was traumatic for the hens and they stopped laying eggs for weeks".
Mr Ritch was much sought after as a judge having judged the commercial cattle classes at the Royal Highland Show and the interbreed beef competition at Turriff Show and was always keen to welcome visits to the farm from young farmers' clubs and the North East Aberdeen-Angus Club, where Willie is a past-chairman.
He was predeceased by his wife, Mary, a doctor, in 1988 and is survived by by his son Willie and his daughter, Kathleen Donald, also a doctor, and four grandchildren.