 Soldiers from the UK and USA joined forces for a special mission at a Highland zoo.
Reservists from 71 Engineer Regiment, based at RAF Leuchars, and exchange soldiers from the South Dakota State National Guard took only 10 days to build the wooden path at the Highland Wildlife Park, Kingussie.
Yesterday the 40-strong team took part in a parade to mark the completion of the 492ft walkway.
It will allow visitors who arrive on foot to gain direct access to the wildlife park.
The walkway, which was funded by the Heritage Lottery Fund, will open in mid-November.
The soldiers installed 146 wooden posts, ranging from 8ft to 19ft high.
To mark the completion, the park's head keeper Morag Sellar piped the 40 soldiers from the visitor centre to the walkway.
There they were presented with a handmade basket sword, made by John Ramsay the Royal Zoological Society of Scotland's blacksmith.
The two regiments used the task as an exercise to test the chain of command between the two units and to promote teamwork.
Warrant Officer David Riach said: "It was a good opportunity for the units to work together.
"The Americans are a great bunch of guys and have a really good work ethic. They did an amazing amount of work in the short time we had."
The US soldiers leave Scotland tomorrow.
Stephen Plowman, head of maintenance for the Highland Wildlife Park, said: "The work carried out by 71 Engineer Regiment and the South Dakota State National Guard has been invaluable. We have only a small works team at the park and their assistance has meant that the new walkway will be available for visitors a lot sooner."
During the walkway's construction, a temporary fence was erected in the reserve entrance to keep the park's three Bactrian camels and seven eastern kiang asses apart from the soldiers.
Seven yaks were moved to a paddock near the service road.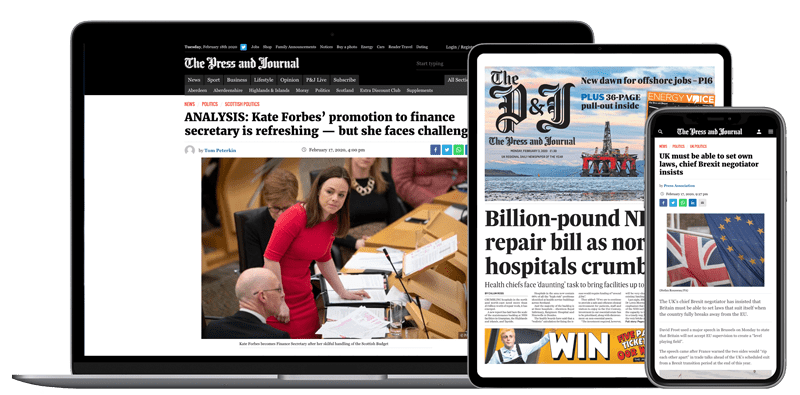 Help support quality local journalism … become a digital subscriber to The Press and Journal
For as little as £5.99 a month you can access all of our content, including Premium articles.
Subscribe