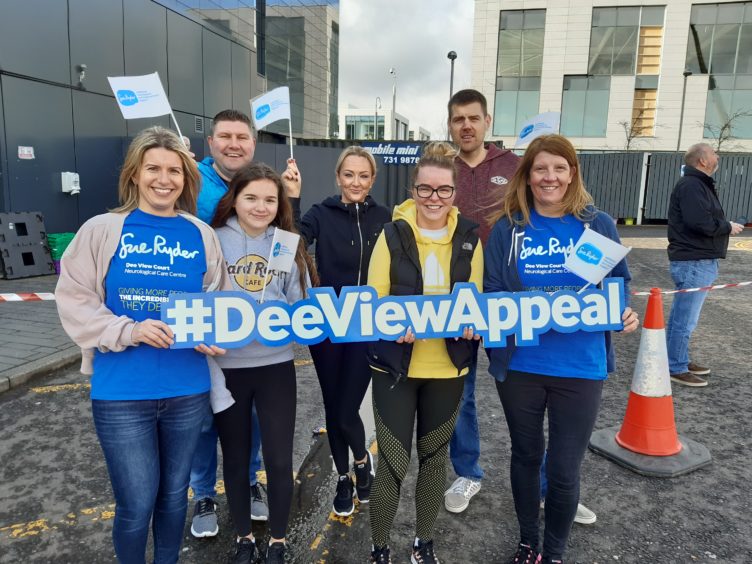 An Aberdeen-based fundraising campaign has received more than £100,000 from a multinational energy company.
Sue Ryder Dee View Court's capital appeal to raise £3.9 million to expand its facilities for residents with severe neurological conditions has been bolstered by the efforts of staff at the Aberdeen branch of Wood, who have contributed £106,000 to the cause.
The company embarked on a charity partnership with the centre at the start of 2019 and staff members have subsequently completed a variety of events, including fire walks, sponsored abseils, races and an adrenaline drop challenge.
Last August, Wood welcomed more than 300 guests to its summer ceilidh at P&J Live, who collectively raised £30,000 of the total.
The appeal was launched in 2017 to expand and enhance the Aberdeen facility and provide round-the-clock care and support for another 20 people with such complex neurological conditions as Parkinson's disease, Huntington's and multiple sclerosis.
Tom Gilchrist, Wood's senior vice-president for operated assets in Europe and Africa, spearheaded the campaign to help Dee View Court.
He lost his brother, Will, to a brain stem stroke in December 2018, which made him doubly determined to get involved in backing the appeal.
Mr Gilchrist said yesterday: "Our people have demonstrated incredible acts of kindness.
"Every single one of them has helped build a brighter future for local people who are living with neurological conditions and acquired brain injuries."
Valerie Maxwell, Dee View Court's centre director, said she was delighted at receiving such a major boost for the appeal, which is close to reaching its target.
She added: "There aren't enough words to express how truly grateful we are for Wood's wonderful support.
"This money will help to create the best environment for clients to thrive in their everyday lives, therapy sessions and social activities."
Further information about the appeal can be found at www.sueryder.org.