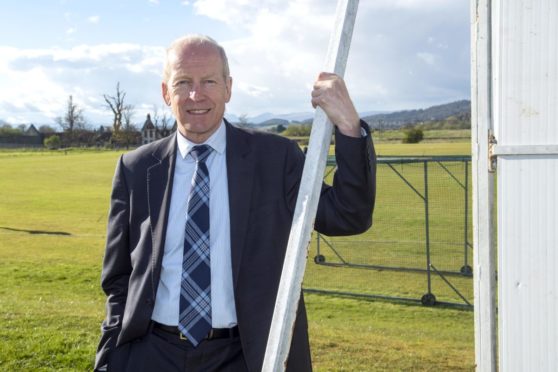 A north-east cricket club has revealed may have to make redundancies due to the dire impact coronavirus is having on grassroots sports.
Aberdeenshire Cricket Club won championship titles as recently as 2009 and 2014, but the Mannofield club is now facing making some staff redundant amid financial difficulties.
Having been relegated from the Eastern Premier League last season – and with it looking increasingly likely there will only be a few weeks of action this summer – club president Willie Donald admitted that "strictly speaking, the club is insolvent on a day-to-day basis and our cash flow projections through to December indicate a severe negative position."
He confirmed that some Shire members are attempting to muster sufficient support to hold an extraordinary general meeting in response to the current situation, but he fears it will be a "fruitless exercise" given the club has not held its annual meeting this year.
It is all a stark fall from grace for one of the country's oldest institutions which has a history dating back to the 1850s, famously hosted Sir Don Bradman's last hurrah in Britain in 1948 and was the venue for an ODI match between Scotland and England in 2014.
But Mr Donald, who has been involved in drawing up a Vision 2030 strategy, specifically designed to steer Shire forward and tackle the issues which have sparked fears over the game's long-term future, insisted there was no point in dwelling on the past.
The former Scotland player said: "The club situation is very poor. It was poor even before lockdown and Covid-19 has exacerbated matters and brought them to a head.
"We have utilised all the government support available, including a £25,000 grant from Aberdeen City Council, furlough, and a 'bounce back' loan from the government.
"However, we have breached our overdraft cap and are working with the bank to ensure we have support to get us through this period. A small group of members have been agitating for a few days with a desire to hold an EGM.
"That is their prerogative and if they meet the rules for holding an EGM, then so be it.
"But if we keep staff on, we will sink deeper into the negative, even during the reduced furlough terms post July, and the bank may call it a day.
"We must push ahead with our current plans and redevelop the club as a more lean and efficient organisation with a diverse membership and a wide range of activities.
"If we are defeated in these aims, then, most likely, a new management team will have to be found. But the hard financial facts will not disappear.
"We estimate turnover will be down something in the order of £225,000 this year. There have been no cricket expenses, and we've received a £25,000 grant, but we are still running at or just above the limit of our overdraft. There is simply no more money."
However, the decision to go down the redundancy route has caused anger among several long-standing regulars at Mannofield.
One anonymous source said they had "no faith in the people who got us into this mess getting us out of it."
Mr Donald refuted the notion that mismanagement had led to Aberdeenshire's problems, and countered that Covid-19 had been a factor which nobody could have foreseen.
He added: "I think clubs from other sports will recognise our symptoms. We can get through it and I am working hard to keep the key parties onside.
"But we do not need any further distractions at this stage. If we maintain our focus and are not diverted from our plan, we believe that ACC will survive into 2021."