 A CLIMBER was in a serious condition in hospital last night after surviving a 300ft plunge down Ben Nevis.
Rescuers said the incident could have been much worse as the man had been roped to his two companions.
Lochaber Mountain Rescue Team leader John Stevenson said it was "very lucky" that the climber did not pull his two companions off the cliff face with him.
The man, who is in his 40s, fell from the notoriously difficult Douglas Boulder area while climbing the Tower Ridge. He was plucked off the mountain by an RAF Lossiemouth helicopter during an operation carried out in rain and low cloud.
He was flown to the rescue team's headquarters at Claggan, where an ambulance was waiting to take him to Belford Hospital at Fort William.
The Rescue 137 Sea King aircraft then returned to pick up the two other climbers.
One had fallen a short distance and was taken to hospital with a suspected broken ankle.
The third climber was uninjured.
Mr Stevenson said the two climbers who were positioned above the seriously injured man were forced to remain where they were until the rescue helicopter arrived.
He said: "One of the lads phoned 999 from the mountain. The police put the call through to us and we told them to stay where they were.
"It was just too dodgy for them to try and reach their friend."
The very wet weather conditions also added to the danger.
Mr Stevenson said: "I'm actually surprised they were climbing in those conditions. There was lots of rain and a bit of cloud. There's always a danger when you are roped together that if one goes he pulls the rest down.
"They were very lucky. The rope has obviously held in this case."
Mr Stevenson praised the work of the helicopter, crew who completed a "textbook" airlift despite low cloud.
"The crew were great, as they always are, and went straight in and winched the guy off," he said. "The guy has had a fair old fall. He was conscious when they got to him but I'm not sure if he was talking."
A team of 16 volunteers assembled at the rescue base but were not required.
The drama started about noon and the men had been airlifted off the mountain by 2.30pm.
The police said: "The injured man has been taken to Belford Hospital, where his condition is thought to be serious but not life-threatening".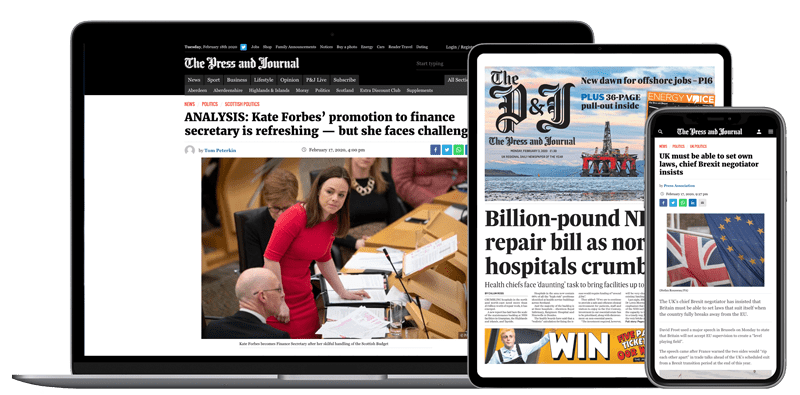 Help support quality local journalism … become a digital subscriber to The Press and Journal
For as little as £5.99 a month you can access all of our content, including Premium articles.
Subscribe