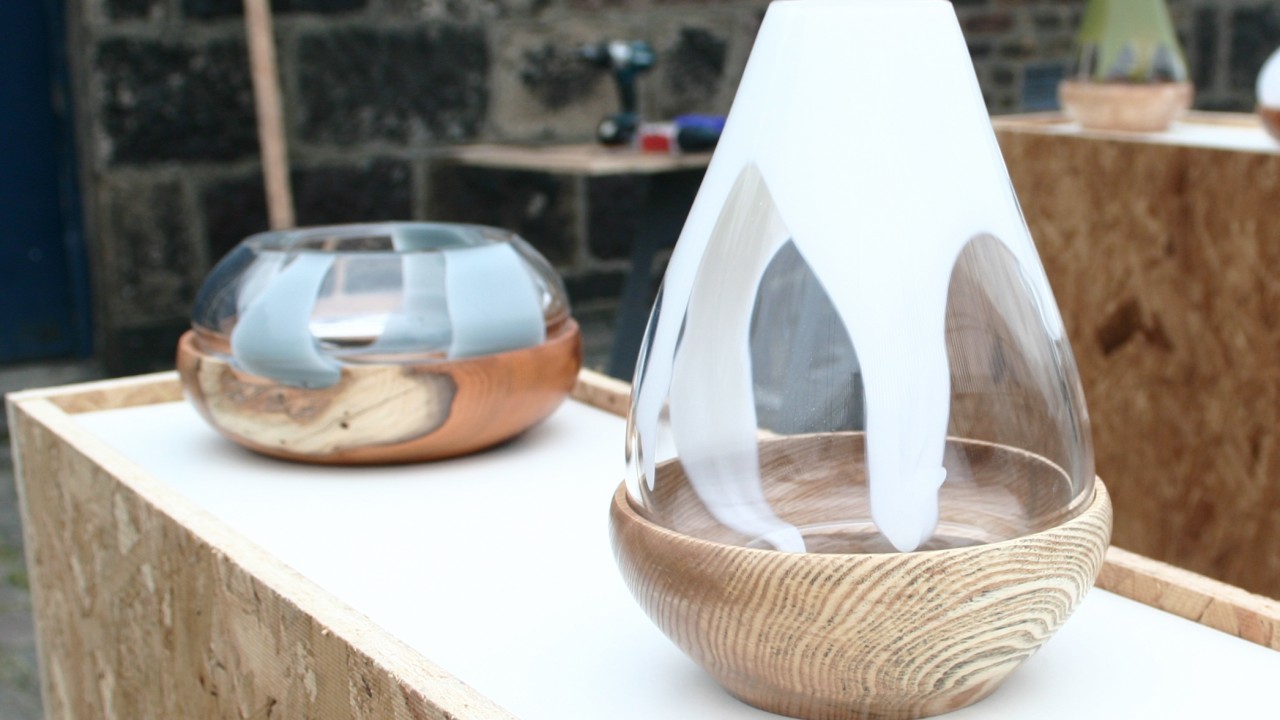 This weekend will be the final opportunity to view a stunning display of work by a local and highly skilled craft maker currently exhibited at Seventeen on Belmont Street, Aberdeen.
Born and brought up in Midmar, Aberdeenshire, 33 year-old Conan Abel has lived and worked in Aberdeen City for the last ten years.
Conan, who received part funding for his project when he was awarded with the Vibrant Aberdeen's Craft Maker Award by Aberdeen City Council in 2013, has taken the opportunity to develop his style and share his fresh ideas – both of which are evident in his latest exhibition which closes this Saturday31 May.
"The award has helped me develop my artistic practice and allowed me to refine my craft skills and production method," Conan said.
"The exhibition was a blank canvas and I saw it as an opportunity to showcase my work in a contemporary environment of my own design and making."
Entitled 'Origins', the exhibit is Conan's fourth collection to be created largely from glass and wood ware.
"The forms are influenced by nature – a seed, an acorn," Conan explained. "The material choice is synonymous with the idea of a new shoot sprouting from a mature growth."
However, it isn't only nature that has impacted upon Conan's style. When he's not producing models, Conan works as the design and production manager at 'Marketec', an Aberdeen-based company which produces training models for the oil and gas industry. He explained that his job "greatly influences my art work, in that everything I make is designed to engage and be touched".
Coupled with his nature theme, Conan's employment influences aid him in producing pieces which sport a wonderfully engaging style. His pieces are designed to provide viewers with a rare opportunity to interact with creativity.
"When people interact with one of my tool models, they inquisitively explore the function,", he said.
"When they handle my craft work they often separate the glass and wood elements and exclaim at the weight of the glass or a particular detail in the wood."
With only a very short while left of the exhibition, Conan seems pleased with its outcome.
He said: "My favourite piece is the white and clear glass vase with an ash base. Although I'm really happy with the way the whole exhibition has come together; especially the trellis displaying the design drawings as it was a last minute addition."
The 'Origins' collection caters for lovers of multiple art genres. When asked to sum up his work, Conan said: "Rather than aligning myself with any particular style or trend, I focus on the detail, integrity and quality that I hope to inherit in all my work."
Craft Maker Conan Abel's exhibition at Seventeen, Belmont Street, Aberdeen closes this Saturday. Final viewing opportunity on Friday May 30, 10am-5pm or Saturday May 31, 10am-4pm.