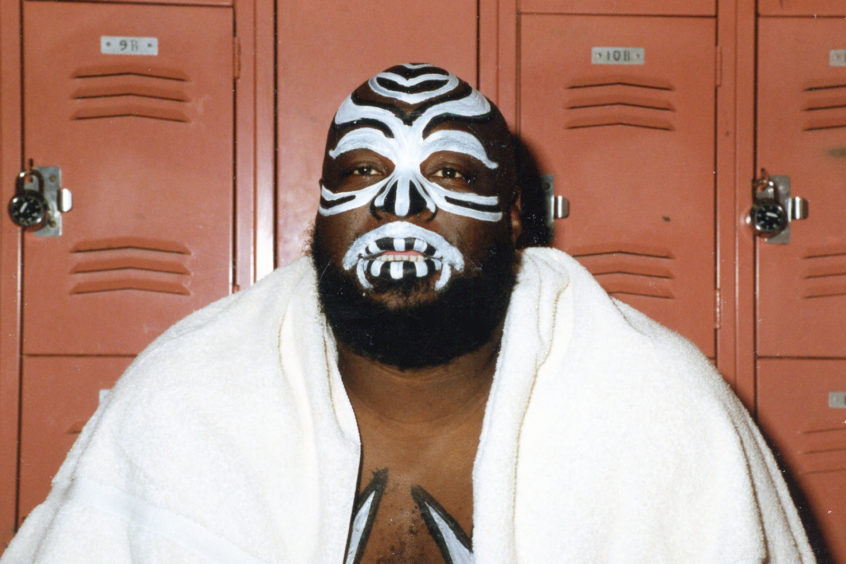 Gentle giant James Harris had not long left his job as a trucker to enter the wild world of professional wrestling when a fateful trip backstage at a show in the American south in 1982 catapulted him into the limelight.
Noticing his near 7ft size, Memphis wrestling legend Jerry "The King" Lawler reckoned he had found himself a new opponent as fans would flock to arenas to see how he could overcome such a physical specimen.
But, Lawler asked Harris, had anyone seen him enter the building?
Assured that his presence in the area was not known, and given the secretive nature of the profession at the time as wrestlers fiercely protected its pre-determined nature,  Lawler hatched a plan to bestow Harris with a "gimmick" designed to turn him into a star villain.
After applying some warpaint, and providing him with a loincloth, spear, African mask and fictitious background as a "Ugandan headhunter", Kamala was born – with the Memphis audience supposedly none the wiser that he was actually from Mississippi.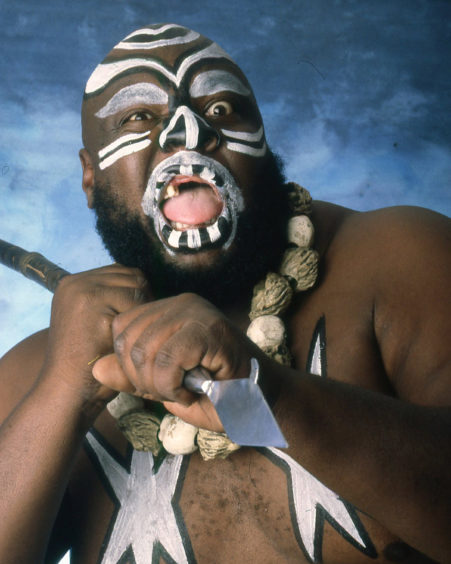 Videos were filmed to introduce the eager-to-believe fans to the vicious new character. They were filmed on a farm in Tennessee but purported to show the giant warrior emerging from a jungle.
Harris wore robes and refused to speak English while in public in Memphis, to maintain the mystique.
The performer, who has now died aged 70, shot to fame under the eye-catching new persona and within years he was wrestling against major stars like Hulk Hogan at the peak of wrestling's popularity in the 1980s.
In 1992, he competed in one of the feature bouts at the WWF's Summerslam show which sold out Wembley Stadium in London.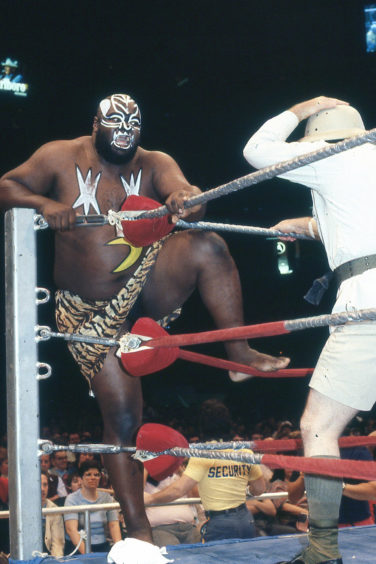 Due to complications with high blood pressure and diabetes, Harris had his left leg amputated below the knee in 2011 and he underwent emergency surgery to clear fluid from around his heart and lungs in 2017.
It is thought he likely contracted Covid-19 on one of his numerous weekly visits to the dialysis centre, his wife said, and he died on Sunday.
A statement from WWE said: "Under the frightening face paint of Kamala, the 6-foot-7, 380-pound Harris battled the greatest superstars in sports-entertainment history, including Hulk Hogan, The Undertaker and Andre the Giant."
Hogan added: "Very saddened by the passing of Big Jim'Kamala'.. He was such a kind soul, RIP big brother."