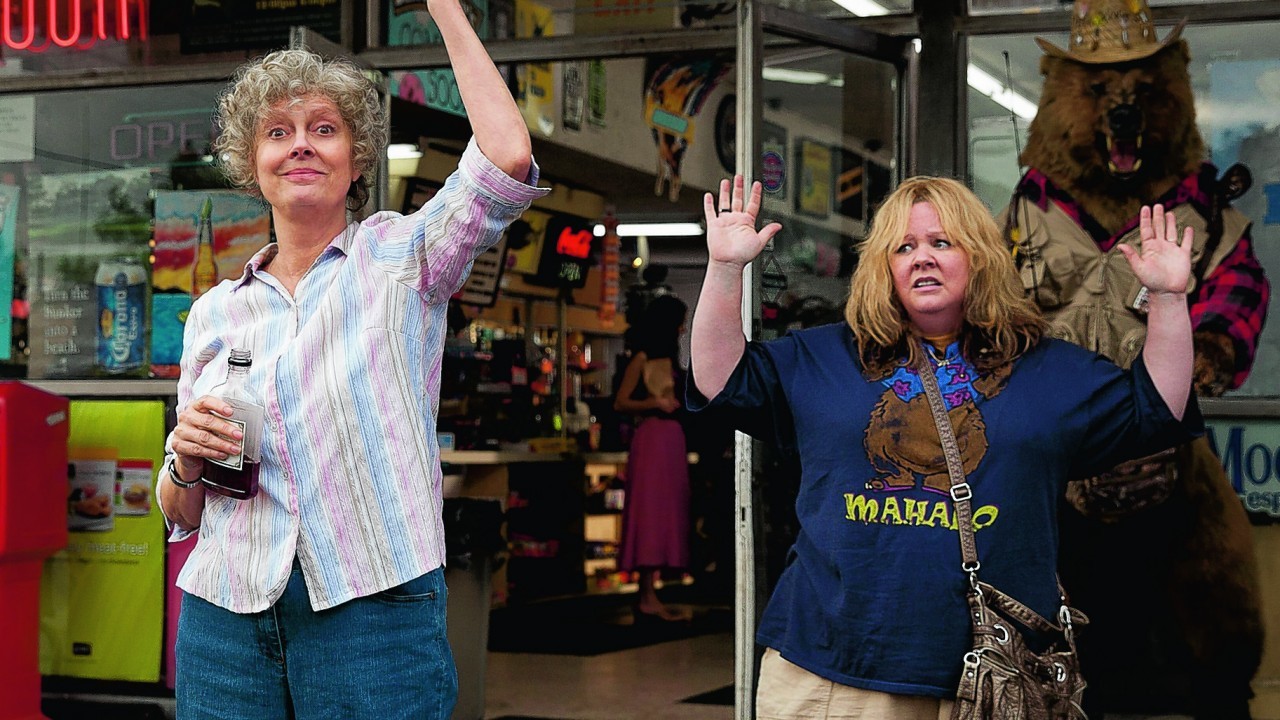 Louise is back behind the wheel, but Thelma isn't joining her this time. Susan Sarandon and Melissa McCarthy, who star in new comedy Tammy, tell us about busting stereotypes.
Susan Sarandon is reflecting on a "crazy" moment a few weeks ago where she set thousands of film fans' hearts aflutter.
The Oscar-winning actress Tweeted a picture of herself with her Thelma & Louise co-star Geena Davis, posting it beside the 1991 film's classic image showing the two friends posing for a picture in their car.
The Twittersphere went into overdrive with more than 27,000 people re-Tweeting the image and over 30,000 marking it as a favourite.
If the social media reaction to the gesture is anything to go by, time has done little to dampen the popularity of the seminal movie, but Sarandon admits she struggles to see how a sequel would ever work.
"I'd love to work with her (Davis) again," says the 67-year-old, who joked that if there was a follow-up film, the two stars would have to stay seated in the car to hide the height difference between herself and 6ft 1in Davis.
"They have kind of knocked around a few ideas of a sequel to Thelma & Louise, but they were so ridiculous," the actress explains. "I remember at one point saying, 'Well what would we do?' And someone said, 'You'd collect a big cheque, that's what you would do', but I don't really know how you would resurrect them (the characters) in any way."
Thelma & Louise aside, Sarandon is hitting the road again for another movie. Tammy (in cinemas now), is a straight-up comedy caper, in which she plays Pearl, the grandmother to Bridesmaids star Melissa McCarthy's Tammy. The film also stars Kathy Bates, Dan Aykroyd and Toni Collette, and is produced by Will Ferrell.
Sacked from her job and fed up with her life, Tammy heads off on a road trip with the only person she knows who has a car and the money to fund a jaunt – her grandma.
"Tammy is underdeveloped, stunted and immature. She's a train wreck. But with a good heart," says McCarthy, who also co-wrote the film with her husband Ben Falcone (he makes his directorial debut on the movie as well).
At 43, though, McCarthy is only 24 years younger than Sarandon, so is it realistic for them to play a grandma and granddaughter?
"I'm bad at math," says Sarandon, laughing. "I just did what they said!"
Apparently, however, the team are satisfied that the casting works. "If you figure that Pearl had a baby at 16, and that child had a baby at 16, it's totally possible," notes Sarandon.
The actress didn't think it was a "huge" deal to consider how young her character must have been when she gave birth. "If you look at my own life, you'll see that I'm like a free agent. I just travel in and out and all over. I haven't done anything according to the right schedule or been with the people at the right whatever," she says – though she did have a few concerns, about the type of grandmother she'd be playing.
"One of the first questions Susan had was, 'Are you seeing like a little old granny with glasses and a crocheted sweater and an up-do bun?"' explains McCarthy, "And we were like, 'Oh God no, she has raging problems with alcohol and she sleeps around', and Susan was like, 'Ok, we'll be fine, we're in the real realm'."
Part of being in that "real realm" meant the usual Hollywood grooming was off the agenda for Sarandon, who was made-under with a short salt and pepper perm, baggy, washed-out pastel blouses and often a bottle of liquor in hand.
"It's very liberating to look that bad," notes the star, who also who placed peppercorns in her shoes to force a limp. "We just accentuated everything I would normally hide. And so it didn't matter if I was sweaty or the lighting was bad.
"That was kind of cool in hindsight," adds the actress, who scooped her Best Actress Oscar in 1996 for her role as a nun who forms a friendship with a prisoner on death row in Dead Man Walking.
For McCarthy, any worries she had about making the film were much closer to home. Although she and Falcone have been together for years and have two daughters (they met while working in improvisational comedy group The Groundlings in the Nineties), this is the couple's first big screen writing collaboration – and McCarthy admits there was a concern that if it didn't get the reaction they'd have liked, it would impact their relationship.
"We had been working on it for years. I think we just thought, 'What if? What if? Can you imagine…?"' she reveals.
That said, their understanding of each other, coupled with the stretch of time they spent writing the film before they trickled it out to executives, gave them the confidence to take the plunge.
"Ben came downstairs having just woken up and said, 'I had a weird dream and I have to write it. You go on a road trip with your grandmother and she drinks and she sleeps around, so I'm going to write that'," McCarthy says. "And I was like 'All right!' That was about six years ago.
"I just agree with him and it all works out!"
EXTRA TIME – ROAD TRIP MOVIES
Planes, Trains & Automobiles (1987) – A pair of unlikely friends, played by John Candy and Steve Martin, try to make it home for Thanksgiving.
The Adventures Of Priscilla, Queen Of The Desert (1994) – Starring Guy Pearce, this hit movie follows the antics of two drag queens and a transsexual as they cross the desert in a motor-home performing cabaret.
The Motorcycle Diaries (2004) – Gael Garcia Bernal plays Che Guevara in this biopic about a journey the Marxist revolutionary took as a young adult.
Little Miss Sunshine (2006) – This mid-Noughties film perfectly balances humour and sweetness with aplomb, as a mismatched family make their way around the States on a mission to get to a beauty pageant so their daughter (Abigail Breslin) can take part.
On The Road (2012) – This big-screen adaptation of American writer Jack Kerouac's classic book details the adventures of a group of aspiring young writers as they journey around the country together.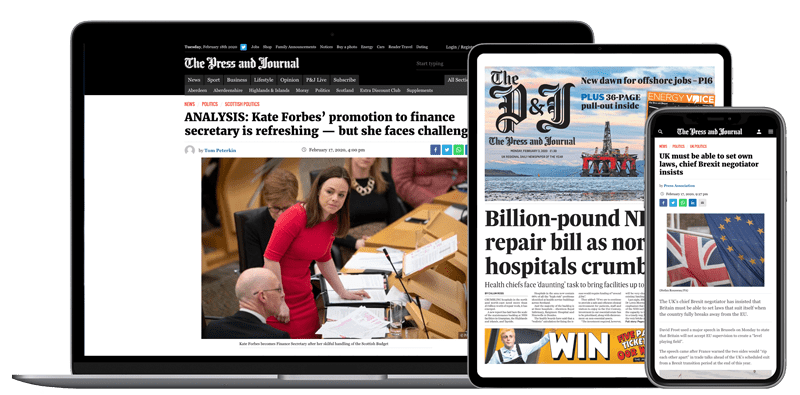 Help support quality local journalism … become a digital subscriber to The Press and Journal
For as little as £5.99 a month you can access all of our content, including Premium articles.
Subscribe