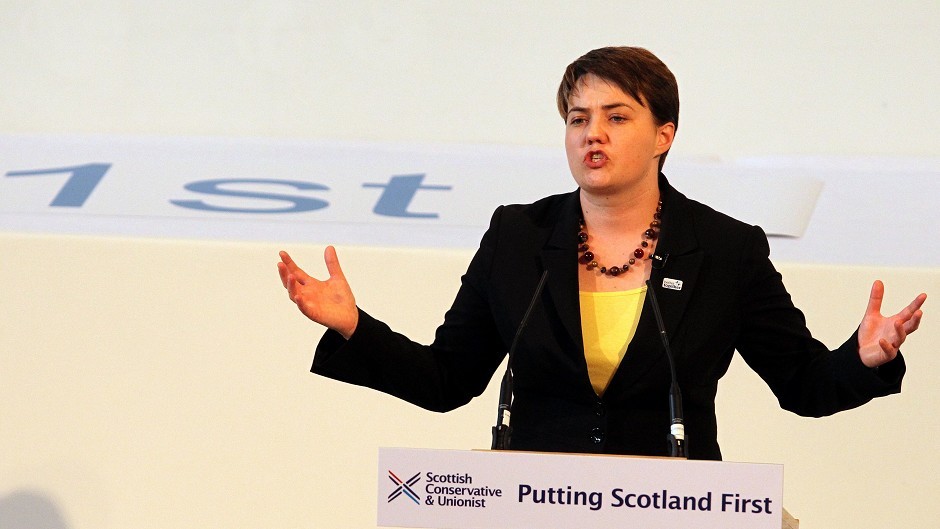 Scottish Tory leader Ruth Davidson has accused the SNP of living in the past and fighting a battle that has already been won.
Independence was an old-fashion concept and out of step with "devolution generation" of young people, she claimed.
Ms Davidson said if giving the vote to 16 and 17-year-olds was a ploy by the Scottish Government to win more votes for independence, it had "clearly failed".
In her first official speech for the pro-union Better Together campaign, she added that polls and mock ballots had shown "the overwhelming majority" backed the union.
Young people getting to vote in September's referendum had grown up with devolution and wanted to live in a country "without borders or barriers" rather than splitting the country up, Ms Davidson added.
She said the idea of creating borders went against the way young people think the world should work in the age of the smart phone and computer tablet.
THe SNP last night hit back at the speech, saying it was "spectacularly ill-timed" given the appointment of eurosceptic Phil Hammond as the new UK Foreign Secretary.
Ms Davidson told an audience of young people in Glasgow: "By carrying on the old battle cries, the SNP end up looking like that Japanese soldier who was still fighting World War II a couple of decades after it had ended, refusing to acknowledge that peace had broken out."
Ms Davidson said the SNP were in "denial" to growing devolution and cross-party support for more powers for Holyrood.
"The SNP says we're not serious. That more powers can't or won't come," she said.
"Well, let me tell Alex Salmond, I am deadly serious about bringing fiscal responsibility to Holyrood, and to end his grievance politics."
SNP MSP Clare Adamson hit back at the Tories and said: "On the day David Cameron appointed the UK's first ever foreign secretary who has said he would vote to quit the European Union – creating borders and barriers between Scotland and the rest of Europe, and damaging investment – this is a spectacularly ill-timed speech by Ruth Davidson.
"Independence is all about giving Scotland a direct role in Europe and the wider world, which would create fantastic new opportunities for young Scots and everyone who lives here."