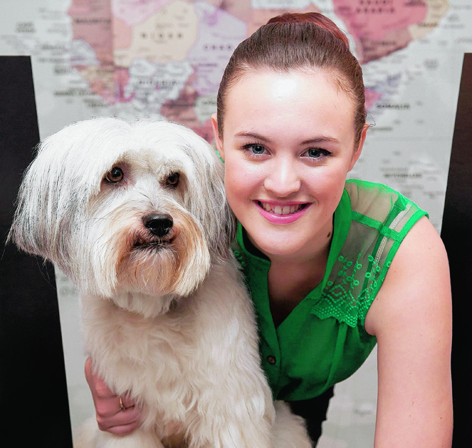 From winning Britain's Got Talent to meeting the Queen, teen dog trainer Ashleigh Butler has certainly packed a lot into her 19 years. Simon Cowell needs to learn a thing or two…
It's no wonder Ashleigh Butler describes her life as "surreal".
Just three years ago, the teenager was studying for A-Levels in Northamptonshire and spending as much of her spare time as possible training her pet dog Pudsey to dance.
Egged on by her parents Penny and Ian, she auditioned for Britain's Got Talent and, after a victorious audition where Simon Cowell dubbed Pudsey "one of the best dancing dogs I've ever seen", she went on to win the series, watched by a peak audience of 14.5million people.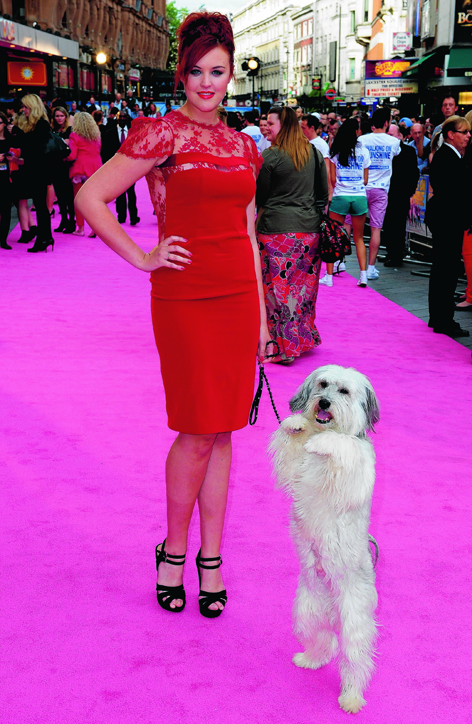 Life has continued to surprise and amaze the teenager. Looking back, there are many "pinch me" moments, including the time she did the conga with reality star Kim Kardashian on Alan Carr: Chatty Man.
These heady star-filled encounters are a far cry from her school days. Although she wasn't bullied, Butler found it hard to fit in and "lacked confidence".
"People thought I was a bit weird," admits the 19-year-old. "I suppose I was… and I still am!"
That "weirdness" has paid off though, and as well as tete-a-tetes with A-listers and royals, Butler has also been heavily involved in new, big screen flick Pudsey The Dog: The Movie (in cinemas now).
"To think, three years ago, I was still at school sixth form and now my dog has got his own film, it's quite surreal… it's a little bit crazy," laughs Butler who, as well as Pudsey, has six other pooches at home, including Pudsey's mum Buffy, (she's in retirement at a ripe 12 years old).
In the film, a loveable stray dog, played by Pudsey and voiced by Britain's Got Talent judge David Walliams, shacks up with three siblings who are moving to the idyllic village of Chuffington, in the countryside, with their mum Gail, played by Jessica Hynes.
But all is not well in Chuffington and soon it's up to Pudsey, a cross between a Border Collie, Chinese Crested Powderpuff and Bichon Frise, to save the day.
To coerce Pudsey into taking directions on set, Butler, who also voices a cow called Daisy in the film, gave the actors clear instructions and tucked treats like ham up into their costumes, so the famous pooch would oblige.
"It wasn't just Pudsey getting used to the actors, it was the actors getting used to Pudsey," explains Butler, who has already published Pudsey: My Autobidography last year.
"But the actors listened to me and coped with Pudsey really well – and he coped with them!"
Although Butler, who was given Pudsey for her 11th birthday, is well used to giving her sidekick direction, she does have her eyes on training several famous dogs.
Top of her list are Simon Cowell's Yorkshire Terriers Squiddly and Diddly.
"I'm waiting for Simon's invite to train his two dogs but I still haven't got it," Butler says with a giggle. "Apparently his dog did a wee on the red carpet a couple of months ago, so I think I'd start with the basics!"
Then there are the Queen's beloved corgis. Butler met Her Majesty at The Royal Variety Performance and performed for her as part of the Diamond Jubilee celebrations.
"She recognised us from Britain's Got Talent and asked the trick to training a dog."
"I said, 'Lots of time, lots of patience and lots of treats, basically'. She didn't ask me if I wanted to come and help with her corgis but, oh well, next time!"
While Pudsey, who's being looked after by Butler's mum during the interview, looks every bit the A-lister with a 'bling' black diamante lead, Butler insists they're both still grounded and she still finds herself star-struck.
"I was really nervous when I was in the private jet with Simon for eight hours," she says, discussing the time the media mogul flew her to the United States for America's Got Talent. "I mean, what do you talk to Simon Cowell about for eight hours?"
Pudsey is the answer.
"It's a good icebreaker isn't it?" she laughs. "But no, Simon was lovely. He's obviously used to that kind of thing and makes you feel comfortable."
The support of Cowell, Walliams and her family has helped Butler adjust to her new life, which will also include appearing in pantomime with Pudsey in Bristol this Christmas.
"It's a bit crazy but I've had good people around me. My management are brilliant and my mum comes with me to events to look after Pudsey," she says.
And though life is "all good fun" at the moment, Butler takes a pragmatic view of her future.
"Collabro, who won Britain's Got Talent this year, are with my management," she says of the "lovely" opera boy band.
"I've seen them a couple of times and they asked if I had any tips or advice.
"Just enjoy it, I say, because you never know what's around the corner or when it's going to end."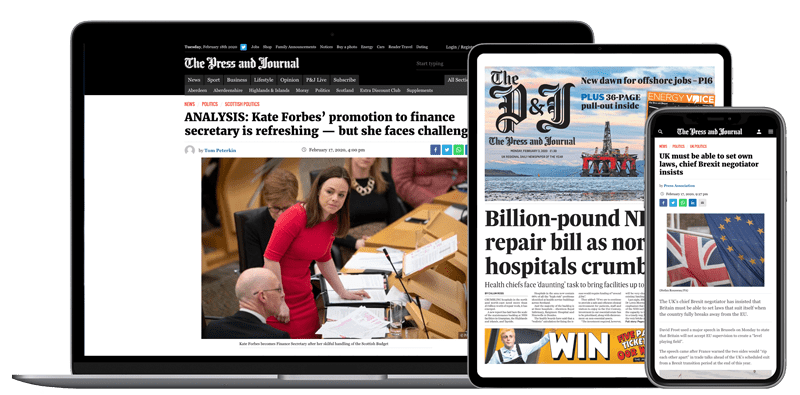 Help support quality local journalism … become a digital subscriber to The Press and Journal
For as little as £5.99 a month you can access all of our content, including Premium articles.
Subscribe