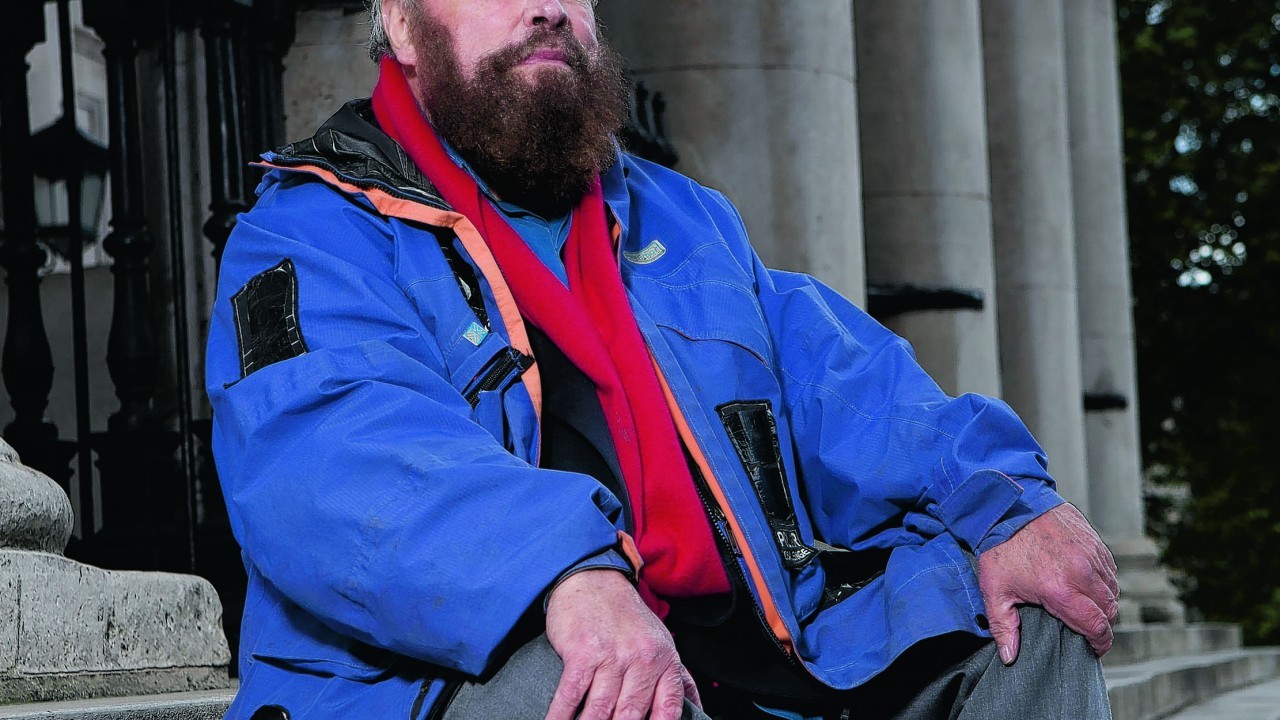 Brian Blessed might be adept at Shakespearian tragedy, but he's always had trouble welling up on camera.
"I've been incapable of crying," the veteran actor confesses in his trademark, booming voice. "It's not being insensitive; I've not been able to."
Indeed, in the 1976 TV adaptation of I, Claudius, in which he played Augustus, the production team had to resort to putting "lots of liquid" in Blessed's eyes for a particularly emotional scene.
When it came to retracing his roots for the BBC One programme Who Do You Think You Are?, however, the larger-than-life star found the tears flowing.
"I didn't make any determined resolution not to cry, I thought it just wouldn't happen," he says. "It was a great surprise to me."
Blessed isn't the first person to have been overcome with emotion on the celebrity genealogy show, which has returned for an 11th run.
In previous series, we've seen newsreader Natasha Kaplinsky grow tearful as she learns of her Jewish family's fate in wartime Belarus, and former Newsnight 'Rottweiler' Jeremy Paxman break down over the plight of his great-grandmother.
"Paxman was not only crying, he became a little boy. There seemed to be decades and decades of tears within him that took him by surprise," Blessed notes.
This show puts the real into reality television, and "bursts the bubble of the television set", according to Blessed.
"This reality takes place and it's quite mystical, the way it happens," the 77-year-old enthuses. "For me, it was an extraordinary voyage."
Born in Mexborough, South Yorkshire, Blessed left school at the age of 14 after his father was injured in a coal mining accident.
He worked as a plasterer and undertaker's assistant – "strangely cheerful work, actually" – before training at Bristol Old Vic Theatre School.
Blessed went on to land parts in the 1980 film Flash Gordon and iconic TV comedy Black Adder, along with Shakespearean roles on stage and screen.
His famous trademark is, of course, that unmistakable sonorous voice, which still has traces of his Yorkshire accent (Blessed now lives in Surrey) and has made him hugely popular as a voice-over artist for everything from TV adverts to satnav devices.
When he was first approached about appearing on Who Do You Think You Are?, the actor – who is married to actress Hildegarde Neil – was sceptical.
"There was a part of me that didn't want to do it, because I didn't want this cliche, I didn't want to find kings and knights and dukes and all that," he admits.
"I just wanted to find real human beings; that's what made me say yes to the programme."
Blessed's previous attempts to trace his ancestors had proved unsuccessful, "and then along came Mary Cranitch, the show's producer, and her wonderful team who made a breakthrough, a big surprise".
The actor's emotional trip takes him from Doncaster to London and then Portsmouth, and uncovers an adventuring great-great-grandfather, Jabez Blessed, who was orphaned and forced to sleep rough on the streets of the capital before going on to father 13 children of his own.
Brimming with excitement, Blessed reveals he was stunned by the coincidences and parallels between his own life and those of his ancestors.
"The London street where I found one of my wonderful relatives was exactly where I do my voice-overs – that's where he had his shop and did his bookbinding.
"We went to the church St Martin-in-the-Fields, I go there every year at Christmas to do The Night Before Christmas, and that's where one of my relatives was baptised."
It's clear that in his great-great-grandfather, Blessed – who describes his life as "50% expeditions and 50% acting" – found a kindred spirit.
Reeling off a list of his own astonishing achievements – scaling Mount Everest three times, visiting the North Pole, space training in Moscow – the star says: "My whole ethos is that the greatest danger in life is not taking the adventure.
"Where did that come from? I started to find it in Jabez; I started to find it in this gorgeous character."
Blessed breaks off to thunderously quote some verses from the Robert Louis Stevenson poem The Vagabond ("Not to autumn will I yield, Not to winter even!") before continuing.
"I didn't realise how much I needed my ancestors, the whole mystery of it, and it made me whole," he acknowledges.
"The finest television is when it's just about real human beings, but I've always been dramatic, and I've always been larger than life. And therefore everything melted away, the cameras melted away and I suddenly became one with myself.
"It has had a marked effect on me. It has given me a wonderful inner peace."
Brian Blessed's episode of Who Do You Think You Are? airs on BBC One on Thursday, August 14.