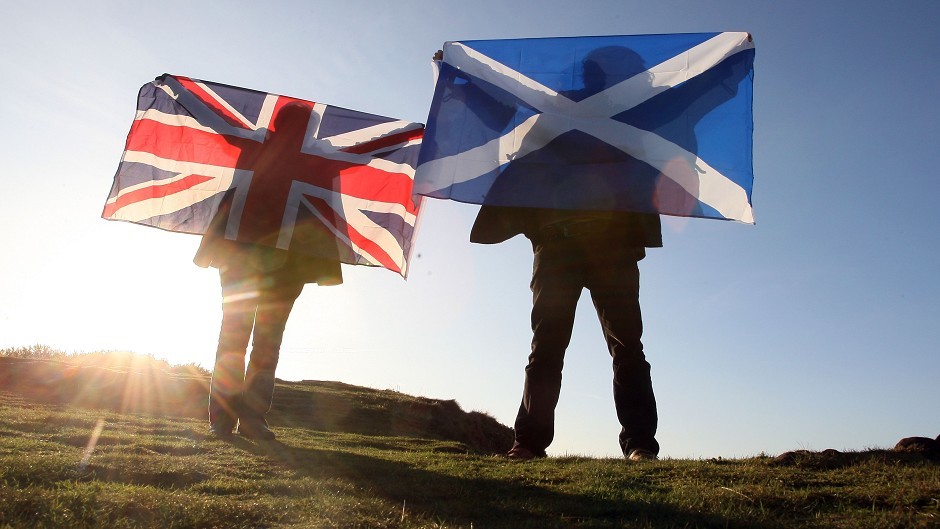 Support for Scottish independence has stalled in the wake of the Salmond/Darling TV debate.
A new poll puts support for keeping the union at 55% – up one percentage point from June – and support for independence at 39%.
But when undecided voters are excluded the gap increases to 22 percentage points with 61% backing a No vote.
According to the YouGov poll, 26% of those who voted for the SNP in the 2011 Holyrood election plan to vote against independence.
The poll shows the damaged the TV debate caused the Yes camp. According to the annual Scottish Social Attitudes survey – carried out before the debate – support for independence was up from 36% to 39% over the past 12 months when the undecided are excluded.
However, despite the gain it found deepening misgivings over the impact of a Yes vote. Some 38% thought Scotland's voice in the world would be weaker, up from 25% in 2013; 44% thought the economy would be worse, up from 34%; and 30% thought the gap between the rich and poor would be greater, up from 25%.
Blair McDougall, director of the pro-UK Better Together campaign, said: "Alex Salmond's failure to be honest with Scots about his plan B on currency is costing him votes.
"It's clear that the momentum in this campaign is with those who believe the brightest future for Scotland is remaining part of the UK."
Scottish Conservative deputy leader Jackson Carlaw said it was increasingly clear that voters were now seeing through SNP "assertions" on the consequences of independence.
"The SNP's plan has always been independence at any cost and now people are beginning to realise just how damaging that could be," he said.
A spokesman for the pro-independence Yes Scotland campaign said the YouGov results were "unchanged" from June and two other polls in the past week had put support for a Yes vote as high as 47%.
"'Over the next five weeks, we will highlight that a Yes vote is Scotland's one opportunity to protect the NHS from Westminster privatisation, create more jobs in Scotland, and transform childcare instead of wasting billions of pounds on Trident nuclear weapons," he said.