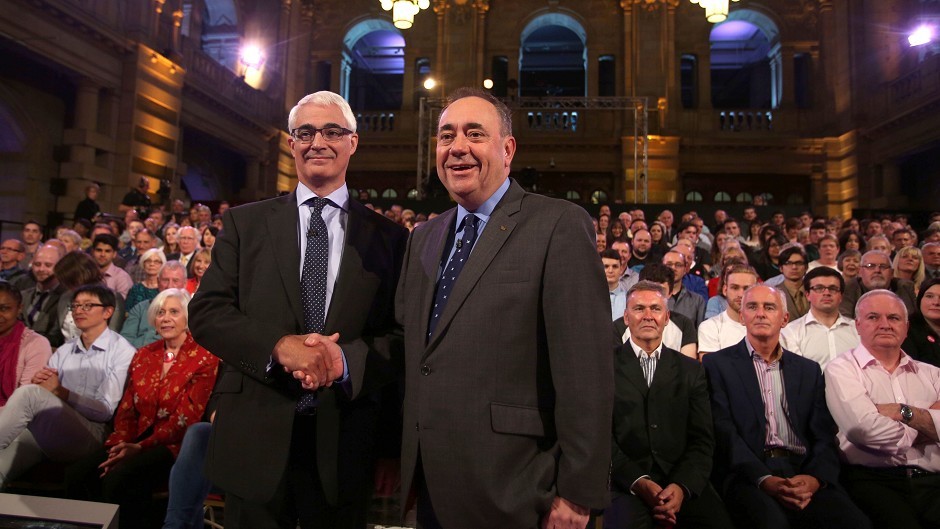 Scotland is standing at a crossroads ahead of next month's independence referendum, First Minister Alex Salmond said as he clashed with the man leading the campaign to keep the United Kingdom together.
Mr Salmond took on Better Together leader Alistair Darling in a BBC TV debate – the second such clash between the two men of the referendum campaign.
Both politicians stressed their desire to build a fairer society as they made their opening statements.
But while Mr Salmond argued "more and more Scots" were favouring independence, the former chancellor continued to press him for answers on the impact of leaving the UK.
The First Minister said this was an "extraordinary time" for Scotland with "the eyes of the world" focused on the nation.
He said Scotland had voted on the country's future twice before – in 1979 when insufficient voters backed a devolved assembly and in 1997, when the ballot that established the Scottish parliament was held.
"Twice before in Scotland's recent history we've stood at the crossroads," the SNP leader said.
"In 1979 we didn't get the Parliament we voted for but instead got 18 years of Tory government – Margaret Thatcher, the deindustrialisation of Scotland, the poll tax.
"In 1997 we took our opportunity and since the Parliament came to Scotland life has got better. We introduced free personal care for the elderly, we removed tuition fees.
"But there is much, far to much, that is still controlled by Westminster. We couldn't stop the bedroom tax, we can't stop illegal wars, we can't stop the poor and disabled bearing the brunt of welfare cuts, we can't stop the spread of foodbanks in this prosperous country, we can't stop countless billions being wasted on a new generation of weapons of mass destruction.
"Now we have the opportunity to change all of that.
"Three weeks on Thursday we can take matters into Scottish hands. Next to no-one wants to go backwards, more and more Scots want to complete the home rule journey."
He added: "We are a rich nation, a resourceful people. We can create a prosperous nations and a fairer society, a real vision for the people of Scotland. This is our time, it's our moment, let us do it now."
While Mr Darling said his rival might have "some good lines" he added: "A good line is not always a good answer, it's answers now we need."
He said Mr Salmond was "asking us to take his word for it on everything, no plan B for anything".
But he continued: "The basic difference between Alex Salmond and me is this, my first priority is to build a fairer and better society. His first priority is to create a separate state no matter what the risks and what the cost.
"While he has spent the last two years talking I have been listening. I know people want change, but they also want security on jobs, on pensions, on their children's future.
"That's why my message is that no thanks will not mean no change. That's why there will be more powers for the Scottish Parliament on tax, on welfare, on everything that makes sense to decide here.
"We have delivered before we will deliver again.
"Tomorrow we Scots will start voting by post, so we need answers tonight, right here, right now.
"The United Kingdom is about sharing risks and rewards with our neighbours, being part of something bigger gives us opportunities and security as well as our Scottish identity in decision making."