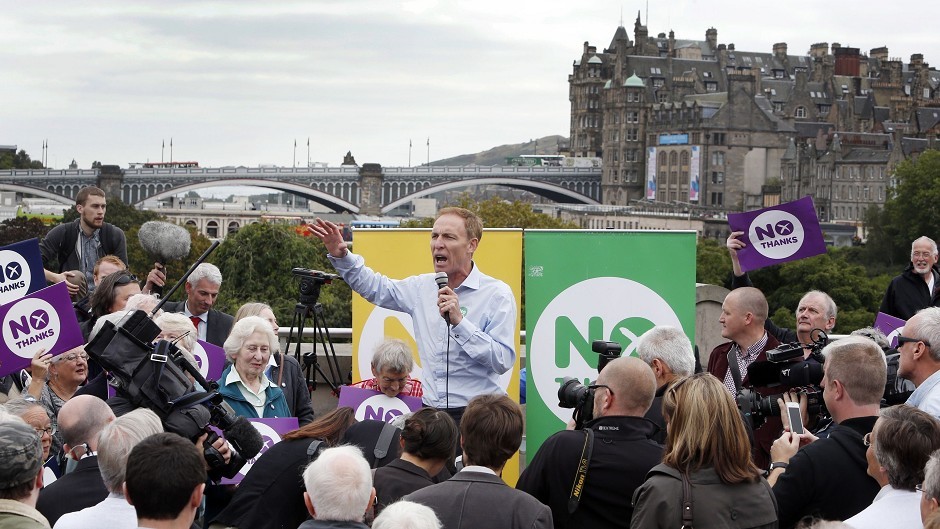 Scottish independence supporters appeared to heed Alex Salmond's call to ignore Labour MP Jim Murphy as he emerged unscathed from a soapbox rally in Edinburgh.
The Better Together campaigner resumed his 100 streets in 100 days tour and was only heckled by one man – and no eggs were flung.
Mr Murphy postponed his speaking engagements last week after he was drowned out by angry Yes Scotland supporters in Kirkcaldy and hit with an egg.
Mr Murphy addressed several hundred people in a plaza off Princes Street in Edinburgh yesterday.
The gathering was largely made up of Better Together supporters and members of the public.
The Labour MP, who has 17 engagements left on his tour, said he did not postpone his soapbox tour because of heckling.
"It became an issue of public order and I am glad that whoever noisily turned on the tap of that political mobbery has now, over the weekend, quietly turned it back off again," he added.
"I think that's good for the referendum, and it's great for the campaign because we can now have a really passionate debate about the future of our country.
"We took advice from the police, we are satisfied with the advice we got and they are comfortable about how we are doing the rest of the tour."
A new YouGov poll shows that support for independence has surged to 47% – up 8 points since early August – and 53% of 1,062 respondents said they backed the Union.
Asked if he was worried about the narrowing poll gap, Mr Murphy said: "I am confident the quiet patriotic majority will stand up and be counted on referendum day."
But Blair Jenkins, chief executive of the Yes Scotland campaign, claimed it was a "breakthrough" poll and only a three-point swing was needed to secure victory on September 18.
"Scotland is one of the wealthiest countries in the world," he added.
"More and more people are beginning to realise that a Yes vote is Scotland's one opportunity to make that enormous wealth work better for everybody who lives and works here."