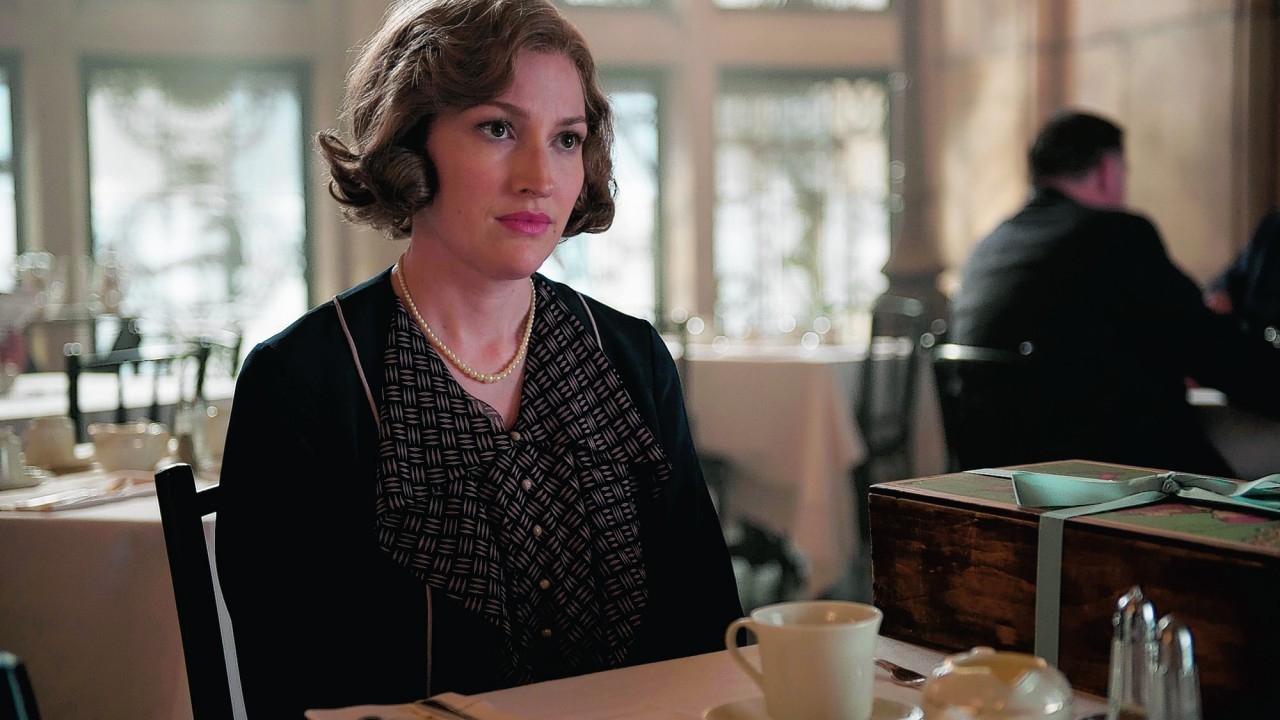 Back in the 1990s, Glaswegian actress Kelly Macdonald witnessed a surprising reaction from her Trainspotting co-star Robert Carlyle, at the launch of the landmark film.
Packed in at the premiere for the 1996 Danny Boyle classic, in which Carlyle played gobby ringleader Begbie and Macdonald had her acting breakthrough as precocious schoolgirl Diane, the pair found themselves sitting together.
"The film started and Robert's character appeared before mine did. Suddenly, he was almost under the seat, he was so mortified," says 38-year-old Macdonald, who was a teenager at the time and scored the role without any formal acting training, after spotting a leaflet advertising open casting sessions.
"I was like, 'What's his problem?' And then my scene came up and I was like, 'Oh God!' I was totally naive."
Almost 20 years down the line, Macdonald has become accustomed to watching herself on screen, but it's not something she relishes. This isn't self-consciousness though; she says she doesn't know "anyone who loves watching themselves".
"It's not any different to hearing your voice on an answering machine," she says, laughing. "Or taking a picture of yourself on your phone – and then you delete it, and after 10 attempts, you're like, 'I'm not taking a photo!"'
Free of airs and graces, the actress, who has been working solidly since her break in Trainspotting with roles in the likes of Coen Brothers' 2007 hit No Country For Old Men, Harry Potter And The Deathly Hallows: Part 2 and Anna Karenina alongside Keira Knightley, admits she's been known to duck out of premieres.
"You kind of have to be there, unless you awkwardly ask, 'Can I just leave?', which is weird, but which I have done," confesses Macdonald, who has two sons – Freddie, six, and toddler Theodore – with her husband, Travis bassist Dougie Payne.
She has made an exception for Sky Atlantic's popular series Boardwalk Empire, however, and this autumn, she'll put on the ritz for the fifth and final premiere of the period drama, which returns to screens this month.
Macdonald stars as go-getting Irish immigrant Margaret, who is forging a life for herself in 1920s New York. Following the bloody conclusion to series four, season five jumps forward seven years, to 1931, as the country struggles to cope with the Great Depression and the end of Prohibition looms.
While awash with memories of growing up in 1884 Atlantic City, Margaret's estranged husband Nucky, played by Steve Buscemi, sets his sights on a post-Prohibition future, as he joins Sally Wheet (Patricia Arquette) in Cuba and, with a US senator in tow, forges an alliance with a liquor producer.
Although she can only "skirt around" the storylines, Macdonald teases that she would like her character to reach a sticky end.
"Part of me wants Margaret to end badly," she says. "Not for any moral reason, just because I thought that would be fun to play. I used to joke that I hoped she'd become this deranged alcoholic, causing embarrassment to Nucky."
Even though she can't elaborate on the plots, moving the show forward a decade has been a sartorial blessing for the Scottish star.
"There are waists where there were no waists before," says the actress, referring to the straight-up-and-down flapper-style costumes. "I would not have not looked my best in the 20s, so thankfully I have the option to have a cinched waist!"
Although she loves the new flattering fashions and her character's "strength", Macdonald admits she is also "looking forward to not being Margaret".
But with posters across the UK and the US advertising the series, it might be hard to shake off the character for the time being. Especially with her son Freddie pointing out any Boardwalk posters he glimpses.
Recently, Freddie spotted one which showed Buscemi with blood splattered on his cheek. "He said, 'Oh, it's Steve. Why has he got red on his face?"' says Macdonald. "I was like, 'I don't know', and he said, 'Maybe he's embarrassed'. It was brilliant! I haven't seen Steve yet to tell him, but that's why his character has red on his face, he's really embarrassed!"
Understandably, saying goodbye to Buscemi, "the nicest man in the universe", and the rest of the cast and crew comes with mixed emotions.
"It's been a big part of my life," she says.
"Five years is huge … I've had babies in that time. I couldn't have asked for a better programme to be in for five years," she adds.
"Margaret's evolved every season. She's the character you've seen the biggest change in from beginning to end. But it's also exciting to play someone else."
Who that "someone else" is remains to be seen.
"Before Boardwalk, I would work on films and everybody knew what they were up to next," she explains. "I have never been that way. My career doesn't go back to back, but hopefully there will be something coming up.
"I hope I get to keep doing this for a long time," Macdonald adds, "and I can look back at the evolving things I've done in my life."