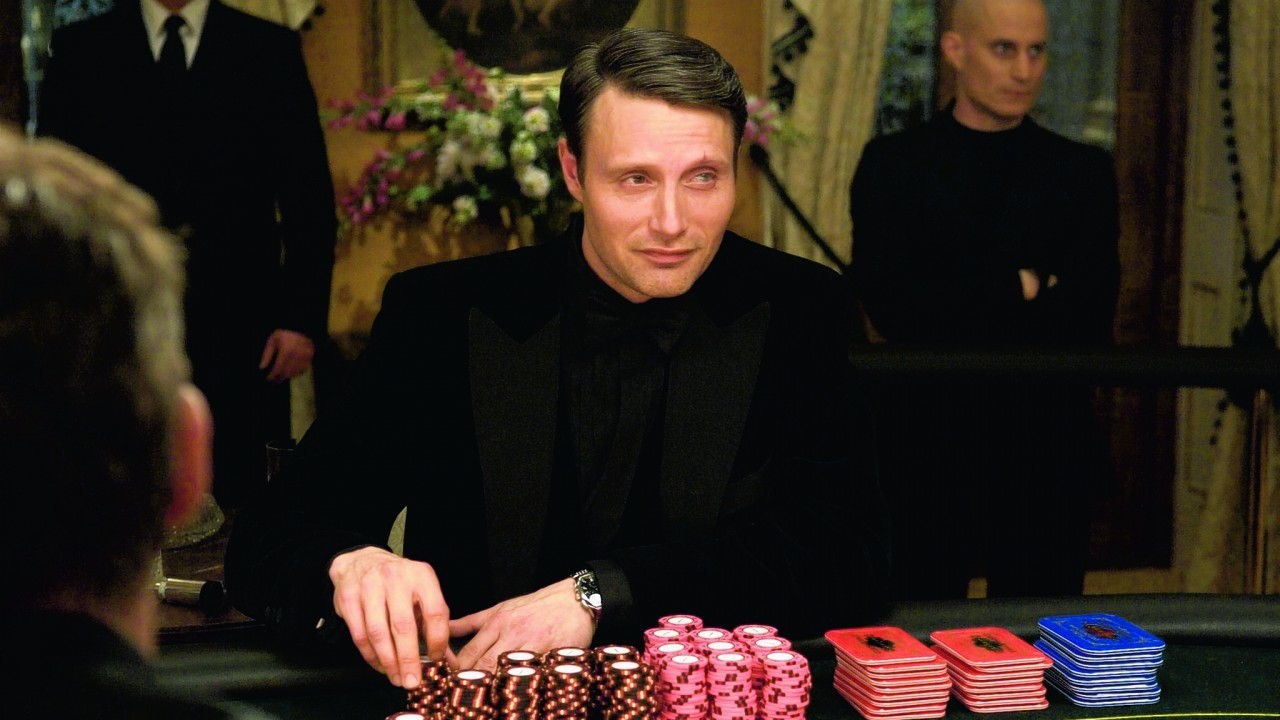 Mads Mikkelsen talks about playing the flesh-eating star of hit TV series Hannibal; torturing Daniel Craig in Casino Royale, and why he's in no rush to be eaten by midges in Scotland again
HOW DAUNTING WAS IT STEPPING INTO THE SHOES OF BRIAN COX AND ANTHONY HOPKINS AS HANNIBAL LECTER?
It was quite intimidating. I didn't do it right away. I had to read it. I had to talk to the people before just to know exactly what kind of shoes I was stepping into, and I realised really fast it was a quite difficult situation.
Obviously Hannibal is outside of jail and he's in need of plenty of friends. He's friendly, to a degree, so we got away with something else, and for that reason I jumped on board and said 'OK, let's give it a try'.
HAD YOU READ THE THOMAS HARRIS BOOKS BEFORE YOU SIGNED UP?
Not the books; I'd seen the films obviously, as they were big all over the world. So I re-saw the films and I read the books, but I didn't do that until after we had shot a couple of episodes. I had a look just to see if there was anything that could inspire and further the process. I can't remember anything specific, but it was interesting to read them.
IS IT REWARDING TO WORK ON A SERIES AS IT GIVES CHARACTERS MORE OF A CHANCE TO BREATHE AND GET UNDER THE SKIN OF VIEWERS?
Absolutely, no doubt about it. I read somewhere that the actual screen time that Anthony Hopkins has in The Silence Of The Lambs is about 13 minutes, or something. So he has to be very direct and has to be very functional right away, whereas we can build it up slowly, and we can go: 'What is wrong with this guy?' We can wait and see a bit more. We have time to do that where they did not, so it's a different process.
HOW DISTURBING IS IT PLAYING THE ROLE?
No, not disturbing at all. You have to remember that Hannibal is not a traumatised man. Everyone around him is traumatised, so I'm not carrying that back home. He's probably one of the happiest people I've ever played. He embraces life; he embraces every new day as a potential fantastic day that can bring something that he could never anticipate, so for that simple reason, I think he's an easy character to play around with. He's complex, but he's definitely not a depressed person.
WERE YOU A JAMES BOND FAN BEFORE YOU LANDED THE ROLE OF LE CHIFFRE IN CASINO ROYALE?
I can't say I was because I'd never seen a Bond film. I did lie at the audition and I said 'Yes, I love that one', and "I remember that one'. I actually hadn't seen any of them. I've seen them all now, and I am a big fan now.
TORTURING DANIEL CRAIG IN THE MOVIE MUST HAVE BEEN A MEMORABLE DAY'S WORK
It was; it was a beautiful day for me, and there was probably a little suffering for him. We shot that for 10 or 11 hours in a straight role, so it was very exhausting for him to go into this panic mode every single time, but it was enjoyable.
YOUR FILM VALHALLA RISING WAS EXTRAORDINARY – HOW HARD WAS IT FILMING IN A CHILLY MOSQUITO-RIDDLED PART OF SCOTLAND?
You nailed it; that was exactly what it was. It was either mosquitoes – they're not mosquitoes, they're called midges, right? They have jaws with little teeth, and everybody was covered up totally with nets, except the actors, so when the sun was out we were eaten, and when the sun was not out, it was so cold you can't believe it. There we were standing half naked doing mud fights. It was physically a very, very exhausting job.
YOU AND DIRECTOR NICHOLAS WINDING REFN ARE A GOOD TEAM. WHAT'S HE LIKE TO WORK WITH?
Well obviously I love it; we've worked together four times now. My very first film was his very first film. So we started out together and he's taken me in at least four different directions now. It's always been a challenge and interesting. He's a man who doesn't compromise at anything, and I enjoy that.
WHAT ARE YOU WORKING ON NEXT?
I wrapped up a month ago on a Danish dark comedy called Men & Chicken; it's the same guy who made Adam's Apples (Anders Thomas Jensen), and he's also a writer for Susanne Bier; he's been writing all her films. I'm having a little vacation now and waiting for October to come and that's when we start shooting season three (of Hannibal).
WHAT'S BEEN A FAVOURITE ROLE AND WHY?
It's one of those questions you cannot answer. There have been so many that I embraced in different ways. Some of them have taught me something; some of them were just plain great to play; some of them have been difficult, but in the end, we might have found a way out of it, so I can't really say which one has had the biggest impact on me, but I would say Nicholas Winding Refn's Pusher is definitely up there, and The Hunt is up there.
THE HUNT LANDED YOU AN AWARD AT CANNES FOR BEST ACTOR. IT MUST HAVE BEEN REWARDING TO GET SO MUCH POSITIVE FEEDBACK FOR SUCH A DIFFICULT ROLE
Yes, of course. The film was absolutely beautiful; it was a film with a gigantic dilemma in it and I think he (director Thomas Vinterberg) brought that to life in a very beautiful way, so that I got acclaim for it and the film did; it was the icing on the cake of something you were already proud of.
Hannibal: Season 2 is released on DVD and Blu-ray on September 22