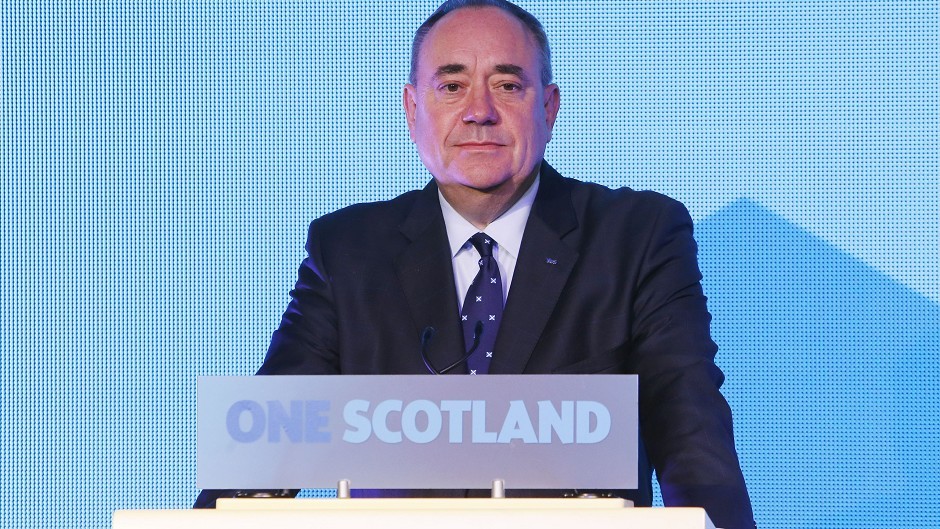 Alex Salmond has fallen on his sword after voters rejected his lifelong political dream of Scottish independence.
The MSP for Aberdeenshire East announced his intention to stand down as first minister and SNP party leader in November.
The shock announcement was in contrast to his earlier statement in the summer he would serve out his term if there was a No vote.
But having suffered a bruising at the hands of the Scottish electorate, Mr Salmond said the Scottish Parliament and the country would "benefit from new leadership".
Mr Salmond blamed his defeat on the promise by UK parties of more powers for the Scottish Parliament, a pledge, he claimed, that had fallen apart within hours of the referendum result being announced.
The first minister's announcement late yesterday afternoon marked the end of an extraordinary day that saw voters back staying in the union by 55% to 45%.
The referendum energised Scottish politics in a way not thought possible, with a record number of people turning out to vote.
Opposition leaders last night hailed his achievements and paid tribute to his commitment to independence. However, there was a feeling Mr Salmond's resignation was inevitable after the independence dream turned sour.
Mr Salmond told a press conference at Bute House, his official Edinburgh residence, it was time for a new leader to take forward the devolution process.
"I believe that in this new exciting situation, redolent with possibility, party, parliament and country would benefit from new leadership," he said.
"Therefore I have told the national secretary of the SNP that I will not accept nomination to be a candidate for leader at the annual conference in Perth on November 13-15.
"After the membership ballot I will stand down as first minister to allow the new leader to be elected by due parliamentary process.
"Until then I will continue to serve as first minister. After that I will continue to offer to serve as member of the Scottish Parliament for Aberdeenshire East."
The timetable should allow a new first minister to be in place a week after the SNP conference.
The main contender to replace him is Deputy First Minister Nicola Sturgeon, who has proved a wily political fighter and popular with SNP members.
She said Mr Salmond's achievements as party leader and first minister were "second to none".
"The personal debt of gratitude I owe Alex is immeasurable. He has been my friend, mentor and colleague for more than 20 years," she said.
"Quite simply, I would not have been able to do what I have in politics without his constant advice, guidance and support through all these years."
Mr Salmond said the opportunity existed to "hold Westminster's feet to the fire" on the pledge of further powers for Holyrood.
He told reporters he spoke to David Cameron yesterday morning and asked about the plans for a vote on March 27, that were set out to Gordon Brown's timetable for the further handover of powers.
Mr Salmond said he was told it was a "meaningless process" because it would be overtaken by the general election.
"My suspicion is, and the prime minister most certainly didn't tell me this aspect, that there is some doubt in the prime minister's mind about carrying his own backbenchers, therefore a reluctance to have a vote," he said.
"But I think people in Scotland would be astonished and outraged, particularly those who voted No on this prospectus."