Many people dream of turning their hobby into a full-time job. Orkney-based jeweler, Alison Moore, is living that dream.
Alison's fascination with gemstones began while she was studying geology at university while the inspiration for her jewellery which includes engagement and wedding rings, necklaces, bracelets and earrings, comes from her surroundings.
"I honeymooned in Orkney and we fell in love with the island as it was so tranquil and completely different to what we were used to," said Alison, 40.
"I studied geology and I loved learning about minerals. When I took up making jewellery as a hobby, while I was working in the land remediation sector, it seemed natural for me to use gemstones but I never imagined then that I would be running my own business and selling to people all over the world."
After moving to the island with her husband Sean from Staffordshire, she set up her own online jewellery business in 2011 with support and help from Business Gateway. In the last three years she has steadily increased her retail stockists and has sold to customers in more than 20 countries including Australia, Canada and Germany.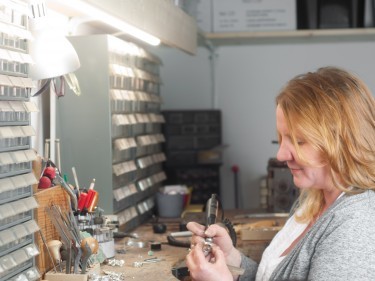 Alison said: "The response and feedback has been terrific. My customers love the modern look of my jewellery and the fact that I have eclectic taste which is reflected in my designs. Of course, the landscapes and scenery of Orkney play a huge part also."
Having started out alone she now employs three people and is looking at other ways to expand in the future.
"It's a really exciting time for the business and I'm so happy not only at what I've achieved already, but what the future might hold. Business Gateway have been amazing and have been there for me since the beginning. Initially I attended their free workshops in record keeping and building a website and learned a great deal about the right way to start up my business.
"More recently, my business adviser has pointed me in the right direction of relevant grant opportunities that I could apply to and I was able to access expert knowledge and advice on employment matters when I took on my first employee. This range of support has allowed me to continue on the proper path of progression."
Kirsten Nicolson, Business Gateway manager, Business Gateway said: "Alison is an example of a rural business which sells to international customers proving that quality products will sell anywhere. Since 2011 Alison has used many of our services including accessing one-to-one advice, our free workshops and expert knowledge of possible funding avenues. We are looking forward to continuing to work with Alison as her business develops further."
Contact: Business Gateway on www.bgateway.com or call 0845 609 6611