Michael Cull has endured a 10-year nightmare as he watched his left leg balloon to more than three stone in weight.
The 66-year-old struggles to walk any distance and suffers abuse from strangers when he leaves the house.
But, despite repeated visits to doctors and specialists north and south of the border, Mr Cull has been told there is nothing that can be done to treat his condition.
The retired computer technician from Aberdeenshire says the failure to act had all but wrecked his life – and that he feels the medical profession has turned its back on him.
"Ten years of my life have been virtually destroyed," he said.
"It has been an absolute nightmare."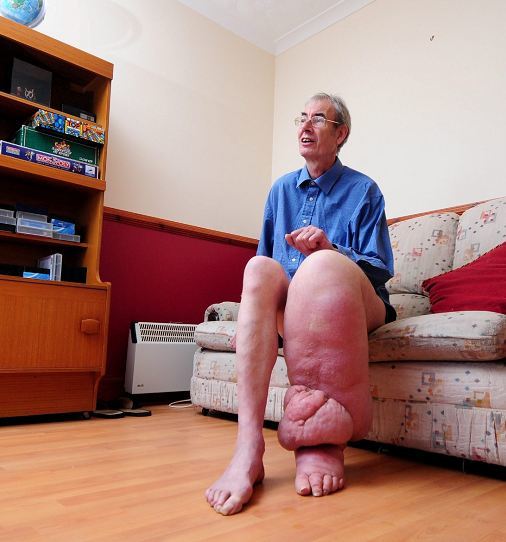 Mr Cull, who lives in Union Street, Rosehearty, near Fraserburgh, first noticed the symptoms after a car accident while he was living in London.
When swelling appeared around his knee, he visited a hospital and was told it was like a "sports injury" which would calm down.
He was later diagnosed as having gross lymphedema.
After moving to Scotland, he began visiting GPs at the Finlayson Street medical practice in Fraserburgh and was referred to Aberdeen Royal Infirmary, where he was given stockings, which failed to halt the problem.
The swelling has now spread from his toes up to his hip, leaving his leg lumpy and deformed.
It was only after Mr Cull contacted First Minister Alex Salmond that he was referred to a consultant in Dundee last year – and was given what he hoped was a breakthrough diagnosis.
"He took one look at it and said he had never seen this in the UK before," he recalled.
"He said he thought it was elephantiasis and that you only got it in third world countries.
"People call me the elephant man."
The specialist also discovered his kidneys were being affected by the disease and large cysts had formed on them.
But when Mr Cull visited the London Hospital of Tropical Diseases on the recommendation of a friend, blood tests failed to find any signs of the parasite which is the most common cause of the disease.
To date, Mr Cull is still waiting for medical treatment that could alleviate his suffering.
"They should have been monitoring me from the beginning to see how it progressed, but it just seemed like on every level no one was interested," he said.