 NORTH-EAST criminals are being handed "less meaningful sentences" in order to ease the pressure on Aberdeen City Council's strained social work department.
City sheriffs have now started to allow extra time for people to carry out unpaid work in the community as there is a shortage of staff to supervise the growing number of offenders being placed on community payback orders.
On average the community justice team in the city is expected to deal with almost 100,000 hours of unpaid work every year. This is continuing to rise as the scheme is more frequently being used as a direct alternative to custody.
Yesterday, Sheriff Graeme Napier gave Laura Mortimer, 28, three extra months to carry out the unpaid hours handed to her for assaulting Donna Watt at Siberia Bar, Belmont Street, Aberdeen, on June 10, 2012.
The court heard the repeat offender was on the brink of going to jail, having previously been convicted of a separate assault on indictment.
However, Sheriff Napier gave her one more chance to avoid prison and placed her on a community payback order.
When ordering Mortimer, 51 Heathryfold Place, Aberdeen, to carry out 140 hours, the sheriff said he would allow her nine months to do it instead of six. He said he was making the compensation as the social work department is currently "overrun" with requests to supervise offenders. Aberdeen Labour MSP Lewis Macdonald said allowing criminals more time to carry out their punishments was the equivalent of handing them a "less meaningful sentence".
He said the Scottish Government needed to ensure councils were being provided with enough resources to allow courts to impose appropriate punishments.
He said: "Community payback orders are only effective if people carry them out. There is no point in handing out these punishments if they are not going to do the hours or if it doesn't feel like a punishment. The public will quite rightly expect to see justice being done and if the courts believe a community payback order is the appropriate way to deal with a case the government needs to ensure councils have resources to support this.
"Otherwise there is the danger that criminals will be handed less meaningful sentences, as appears to be happening here."
A spokesman for the city council said the increasing workload over the last three years has stretched the community justice team. He said that, as a result, initiatives are being worked on to ease some of the problems which result from trying to find enough staff to cope with the number of offenders.
He said: "Workloads have increased significantly since the introduction of community payback orders almost three years ago. The community justice team in Aberdeen now supervises almost 100,000 hours of unpaid work each year and the number of orders is increasing all the time. The provision of longer periods of time in which to carry out the orders would, however, be beneficial and helpful in some cases – for instance those in which the offender has a full-time job or where the individual has substance misuse problems and needs a supported lead-in period before they are able to undertake the supervised unpaid work specified in their sentence.
"The team in Aberdeen has a number of new initiatives in the pipeline, meanwhile, which should ease some of the issues involved in providing the supervised unpaid work and further details will be released in due course."
A Scottish Government spokesman said: "While sentencing decisions are a matter for individual sheriffs, we have protected the overall community justice budget, including funding within that for community sentences.
"We have provided additional flexibility, as recommended by Audit Scotland, for community justice authorities, and it is for them to allocate funding on the basis of local needs and demands."
Comment, Page 28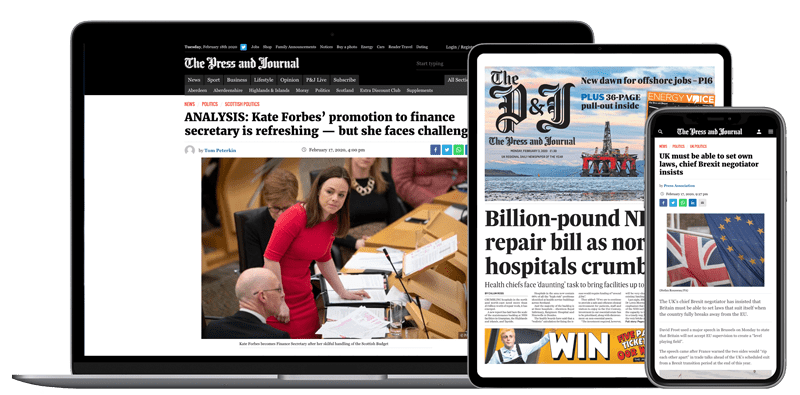 Help support quality local journalism … become a digital subscriber to The Press and Journal
For as little as £5.99 a month you can access all of our content, including Premium articles.
Subscribe