 A masked man who caused terror at an Aberdeen school by indiscriminately firing a paintball gun at pupils has been jailed for more than two-and-a-half years.
Serial offender Owen Petrie was told by a sheriff there was no alternative to a custodial sentence – and a local councillor said the 22-year-old could have caused the youngsters serious injury.
Masked Petrie opened fire on pupils at the city's Hazlehead Academy after emerging from the window of a moving car holding the gun.
The terrified children fled – unaware the weapon did not contain real bullets.
Two pupils, aged 12 and 14, were hit by paint pellets during the incident, which happened at lunchtime on June 3 .
Yesterday, Aberdeen Sheriff Court heard that social workers carrying out background reports on Petrie believed his rate of offending was becoming more severe.
But his agent, solicitor, Peter Keene, told the court his client's behaviour had significantly improved since a spate of offending in 2009 resulted in him serving a period of detention.
Mr Keene said: "Mr Petrie is under no illusion about what is going to happen to him today.
"However, what I take issue with is what has been said about the fact that my client's behaviour is at its worst.
"If you look at his record, which covers many pages, his behaviour was far worse in 2009, subsequently resulting in him serving a custodial sentence."
However, Sheriff Graham Buchanan said that although Petrie's rate of offending may have slowed down, he had "hit the jackpot" in terms of the seriousness of the latest incident.
Mr Keene said: "Mr Petrie regards his behaviour as one of the most stupid things he has ever done. He was on his way to the Hazlehead area, where he was intending to practice shooting his newly-purchased paintball gun.
"He passed the school, it was the school he himself attended, and it seems to be the case that although he is 22 the memories of running around in the playground seemed to have robbed him of his reasoning.
"Although he has several pages of previous convictions and he has previously been sent to a young offenders institution, his behaviour has much improved.
"He very much hopes that his offending behaviour will have ceased from today."
Petrie originally admitted recklessly and culpably discharging the firearm when he appeared in court last month.
At the time, fiscal depute Felicity Merson said he could be heard shouting "Hello kiddies" before he opened fire.
Police were called to the scene, and after following and stopping the car he was in officers found Petrie in the passenger seat with a box containing the gun, pellets and a gas canister in the back. The court heard Petrie, of 84 St Fitticks Road, Aberdeen, was at the time only one week away from completing a community payback order. He was also on bail.
Sheriff Buchanan said the fear caused to the children on the day of the offence was what made the crime so serious.
He said: "This was a very serious matter, because in addition to the obvious danger which exists when you fire a paintball gun indiscriminately at the children, there was also the fear factor involved where you were going about wearing this mask in a public place, next to a school.
"No doubt, a terrifying situation for the children who witnessed your behaviour on that day.
"That is why the charge is serious and will require the imposition of a significant custodial sentence."
Last night, the city councils's education, culture and sport convener, Councillor Jenny Laing, said: "This must have been a terrifying incident for the children who witnessed it, and particularly for those who were hit by this irresponsible young man.
"I am glad that the court has taken such a serious view of his extremely reckless behaviour. It is fortunate that no one was seriously injured.
"The sentence imposed on Owen Petrie sends out a clear message that this type of behaviour will not be tolerated."
Local councillor Martin Greig said: "This was a very dangerous and worrying offence. The sentence should give comfort to everyone that this criminal act has been given a suitable punishment.
"Very major harm could have been caused to individual pupils by the very irresponsible firing of the paintgun."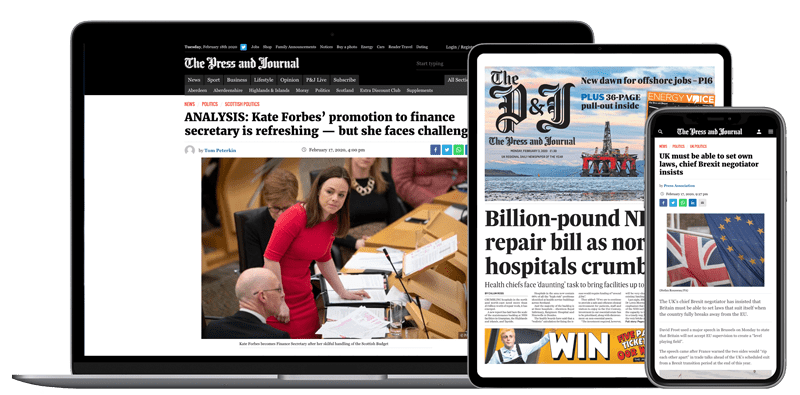 Help support quality local journalism … become a digital subscriber to The Press and Journal
For as little as £5.99 a month you can access all of our content, including Premium articles.
Subscribe