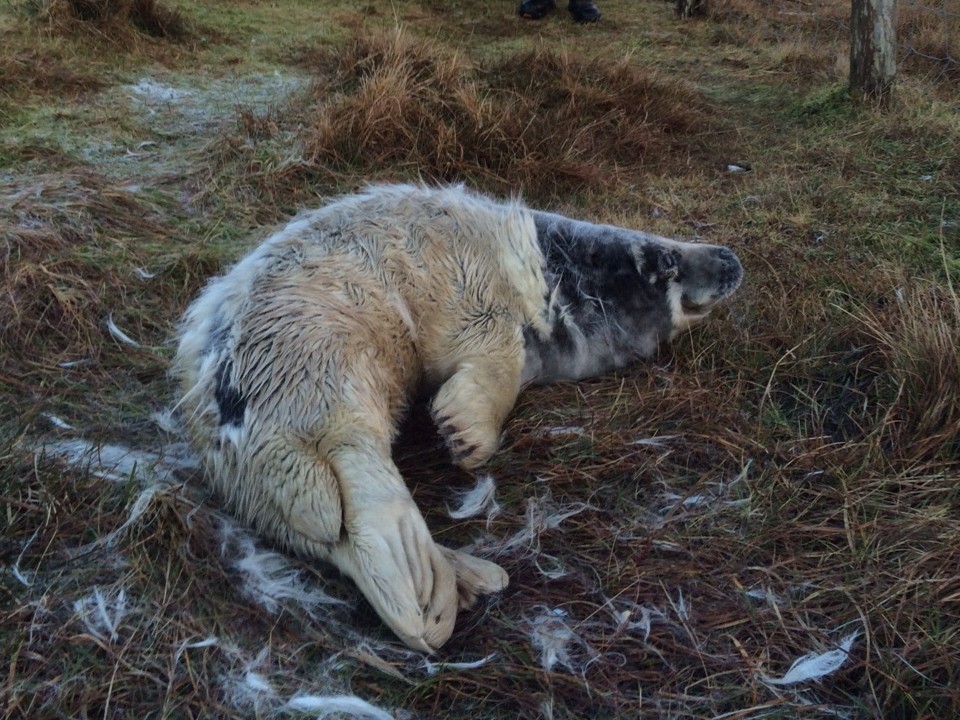 For second year running a stormbound grey seal pup has been brought to Shetland's seal sanctuary at Hillswick at Christmas.
The animal charity Scottish SPCA was called out to Wester Quarff after the Holt family found the seal pup while out walking.
Auxiliary officer Terresa Leask abandoned her festivities to brave icy roads and take the seal north to Hillswick, where it will be cared for until it is ready to be released back into the wild.
"We got the call in from the wildlife sanctuary, so I went out to the back of Wester Quarff where Luke Holt and his son James, with their collie Meg, helped me catch the seal," she said.
"It looked quite poorly and was lying on ice quite a bit from the sea and the best place for it was under the heat lamp at the wildlife sanctuary."
Last year Hillswick Wildlife Sanctuary staff were called out by the police in the early hours of Christmas Day after a taxi driver found a stranded seal pup sheltering on the pavement outside the Tesco superstore in Lerwick.
Jan Bevington, from the sanctuary, said: "As I went to bed on Christmas Eve I wondered if we would get another Christmas seal this year, never thinking that it would actually happen.
"Now I'm wondering about next year, as they say things always happen in threes."
She said the seal was quite small and completely exhausted, so it had clearly been battling in the recent storm and now needed to rest.
"Due to its size, it will be probably be here for a couple of months while we build it up ready for the wild," she said.
The sanctuary has already released three grey seals this winter and is looking after another one that is still in need of care.
"We've also had a few call-outs to seals that did not need to come in to the sanctuary, which fortunately were big enough to leave in the wild to moult their white coats."
The sanctuary also has two otter cubs in its care and almost had a third after receiving a call about an adult otter that had been hit by a car on Christmas Day, but after a night at the vet was fit enough to be released back to the wild.
"This one was lucky, but we have never had so many reports of dead otters on the Shetland roads as this winter," Mrs Bevington said.
"It would be good if drivers could keep their eyes peeled for these slinky creatures that often slide out on to the road without warning."